»

Recipes

»

Indian

»

Kaarate Talasani
Kaarate Talasani Recipe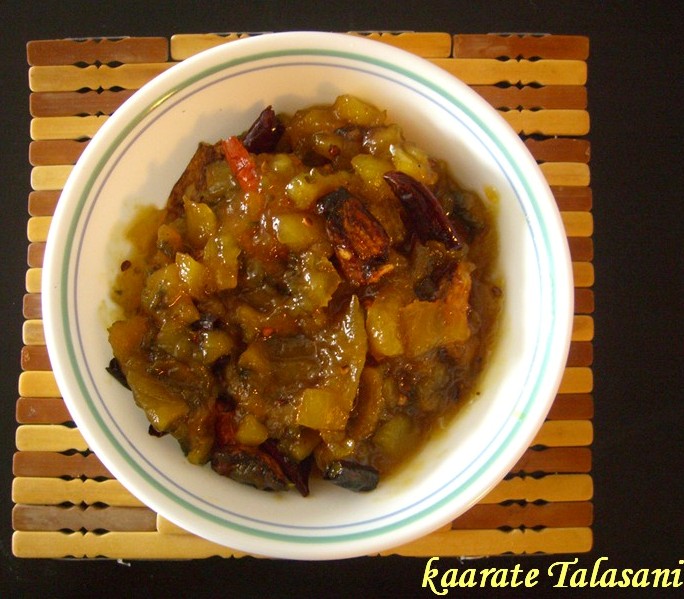 Ingredients
| | | |
| --- | --- | --- |
| | Bittergourds | 2 |
| | Red chillies | 5 |
| | Jaggery | 6 Tablespoon |
| | Garlic | 10 Gram |
| | Oil | 3 Teaspoon |
| | Salt | To Taste |
| | Raw mango | 1 |
Nutrition Facts
Serving size
Calories 348 Calories from Fat 73
% Daily Value*
Total Fat 8 g12.7%
Saturated Fat 1.1 g5.3%
Trans Fat 0 g
Cholesterol 0 mg
Sodium 244.6 mg10.2%
Total Carbohydrates 72 g24%
Dietary Fiber 8 g31.9%
Sugars 56.4 g
Protein 4 g7.1%
Vitamin A 39.2% Vitamin C 392.8%
Calcium 10.3% Iron 11.5%
*Based on a 2000 Calorie diet
Directions
Dice the bittergourd and mango. Slightly crush the garlic flakes.

Pressure cook the bittergourd and mango by adding salt to taste.

Transfer it to a pan and add the jaggery and cook it on a low flame till water is evaporated. (Jaggry gradually melts and the gravy thickens.).

Meanwhile heat oil in a pan and add garlic. Fry till the garlic turns golden. Now add the cut red chillies and saute for about 15 seconds. Pour it over the Bittergourd curry. Mix well.

Serve as a side dish with white rice.

Interesting curry. I haven't heard using raw mango with bitter gourd before. In fact I rarely cook bitter gourd since neither I nor Susheel like its bitter taste. But am curious to know that since you have used raw mango, does it do anything to change the bitterness of the gourd. How would this curry taste? tangy, sour or bitter?
Posted on:
7 January 2008 - 8:34pm
Mango has been used to minimize the bitterness of the bittergourd. As far as the taste is concerned its a mixture of sweet(jaggery), tangy, sour and slight bitter.
Posted on:
7 January 2008 - 10:27pm