»

Recipes

»

Rice

»

Jollof Rice
Jollof Rice Recipe
Popular and spicy West African chicken and rice dish.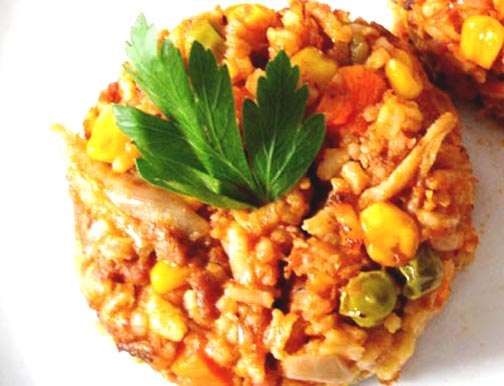 Ingredients
Olive oil

1 Tablespoon

Onion

1 Large

, sliced

Stewed tomatoes

2 Can (10oz)

Tomato Paste

1/2 Can (10oz)

Salt

1 Teaspoon

Black pepper

1/4 Teaspoon

Cayenne pepper

1/4 Teaspoon

Red pepper flakes

1/2 Teaspoon

Worcestershire sauce

1 Tablespoon

Rosemary

1 Teaspoon

, chopped

Water

2 Cup (16 tbs)

1 (3 pound) whole chicken, cut into 8 pieces

White rice

1 Cup (16 tbs)

, uncooked

Carrots

1 Cup (16 tbs)

, diced

1/2 pound fresh green beans, trimmed and snapped into 1 to 2 inch pieces

Ground nutmeg

1/4 Teaspoon
Directions
Pour oil into large saucepan. Cook onion in oil over medium-low heat until translucent.
Stir in stewed tomatoes and tomato paste, and season with salt, black pepper, cayenne pepper, red pepper flakes, Worcestershire sauce and rosemary. Cover, and bring to a boil. Reduce heat, stir in water, and add chicken pieces. Simmer for 30 minutes.
Stir in rice, carrots, and green beans, and season with nutmeg. Bring to a boil, then reduce heat to low. Cover, and simmer until the chicken is fork-tender and the rice is cooked, 25 to 30 minutes.

Anonymous says :
I am a Nigerian and this is not the true recipe for jollof rice.
Posted on:
20 July 2011 - 10:42am

Looks Delicious. It is quite interesting African dish. Jollof name is also interesting.
Posted on:
10 April 2008 - 12:54pm