»

Recipes

»

Rice

»

Jollof Rice
Jollof Rice Recipe
Popular and spicy West African chicken and rice dish.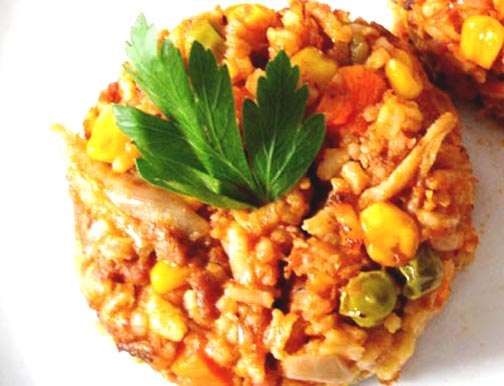 Ingredients
Olive oil

1 Tablespoon

Onion

1 Large

, sliced

Stewed tomatoes

29 Ounce

Canned tomato paste

6 Ounce

Salt

1 Teaspoon

Black pepper

1⁄4 Teaspoon

Cayenne pepper

1⁄4 Teaspoon

Red pepper flakes

1⁄2 Teaspoon

Worcestershire sauce

1 Tablespoon

Chopped rosemary

1 Teaspoon

(Fresh)

Water

2 Cup (32 tbs)

Whole chicken

3 Pound

, cut into 8 pieces

Uncooked white rice

1 Cup (16 tbs)

Diced carrot

1 Cup (16 tbs)

Fresh green beans

1⁄2 Pound

, trimmed and snapped into 1 to 2 inch pieces

Ground nutmeg

1⁄4 Teaspoon
Nutrition Facts
Serving size
Calories 749 Calories from Fat 335
% Daily Value*
Total Fat 37 g57.2%
Saturated Fat 10.3 g51.4%
Trans Fat 0 g
Cholesterol 170.1 mg
Sodium 733.6 mg30.6%
Total Carbohydrates 53 g17.8%
Dietary Fiber 6.5 g25.9%
Sugars 15.6 g
Protein 49 g98.4%
Vitamin A 104.7% Vitamin C 46.8%
Calcium 15.6% Iron 29.9%
*Based on a 2000 Calorie diet
Directions
Pour oil into large saucepan. Cook onion in oil over medium-low heat until translucent.
Stir in stewed tomatoes and tomato paste, and season with salt, black pepper, cayenne pepper, red pepper flakes, Worcestershire sauce and rosemary. Cover, and bring to a boil. Reduce heat, stir in water, and add chicken pieces. Simmer for 30 minutes.
Stir in rice, carrots, and green beans, and season with nutmeg. Bring to a boil, then reduce heat to low. Cover, and simmer until the chicken is fork-tender and the rice is cooked, 25 to 30 minutes.

Anonymous says :
I am a Nigerian and this is not the true recipe for jollof rice.
Posted on:
20 July 2011 - 10:42am

Looks Delicious. It is quite interesting African dish. Jollof name is also interesting.
Posted on:
10 April 2008 - 12:54pm