»

Recipes

»

Panini

»

Joe's Panini With Homemade Cranberry/dijon Sauce
Joe's Panini with homemade cranberry/dijon Sauce Recipe
A warm crispy panini with melty cheeses and sliced turkey and ham with two sauces on each slice of bread. One, a cranberry/dijon homemade sauce, and second, a creamcheese with garlic and herb spread.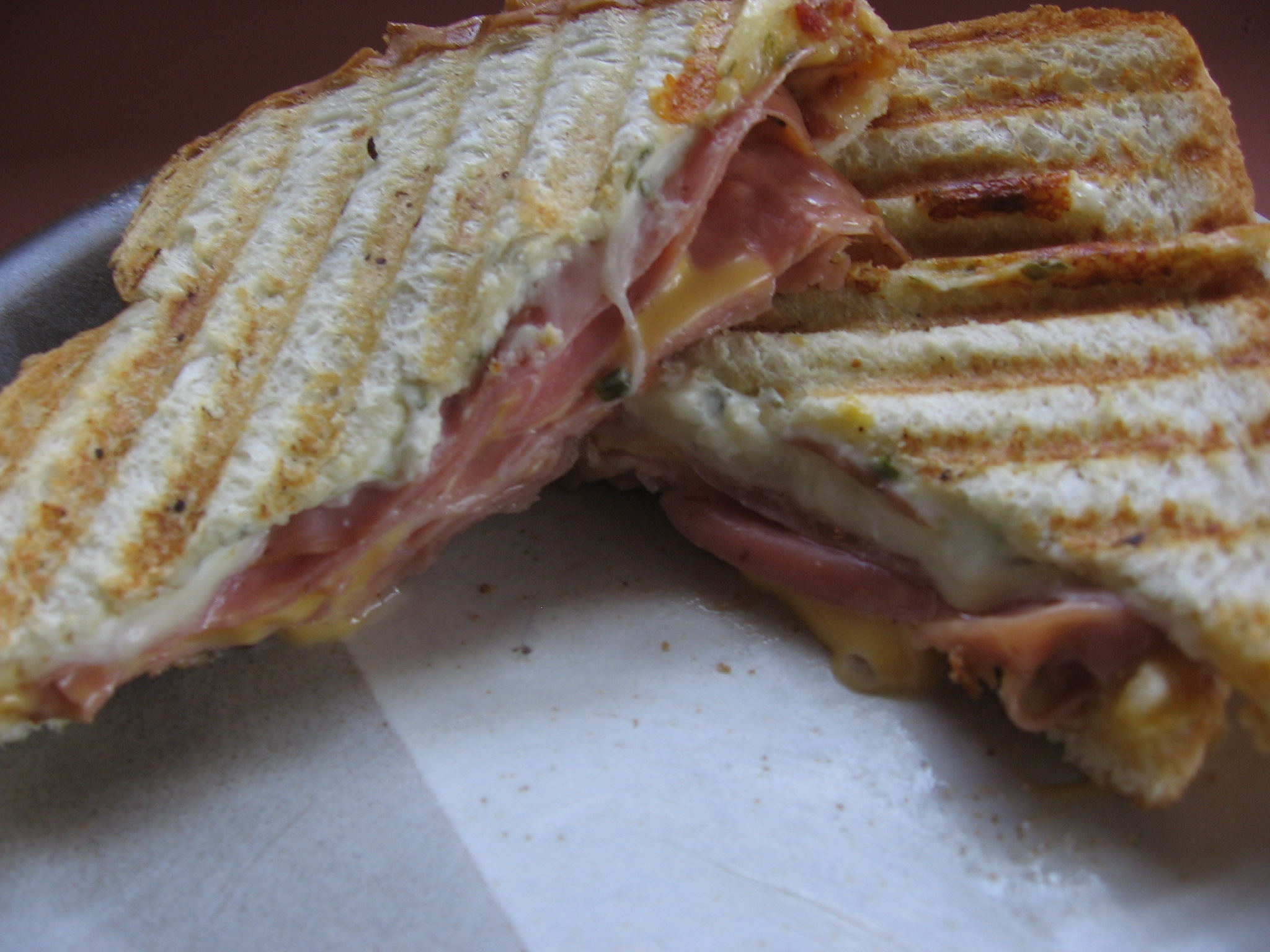 Ingredients
Cranberry/Raisins

2 Cup (32 tbs)

(ocean spray)

Honey dijon mustard

1⁄3 Cup (5.33 tbs)

Orange juice

1⁄4 Cup (4 tbs)

Bread

3

Swiss cheese

1⁄2 Cup (8 tbs)

Sharp cheddar cheese

1⁄2 Cup (8 tbs)

Cream cheese

8 Ounce

Dill

2 Tablespoon

Finely minced garlic

3 Tablespoon

(add more if you like)
Nutrition Facts
Serving size: Complete recipe
Calories 1787 Calories from Fat 1108
% Daily Value*
Total Fat 129 g197.9%
Saturated Fat 70 g350.1%
Trans Fat 0 g
Cholesterol 393.5 mg
Sodium 1867.2 mg77.8%
Total Carbohydrates 103 g34.4%
Dietary Fiber 13.8 g55.4%
Sugars 26 g
Protein 61 g122.5%
Vitamin A 135.2% Vitamin C 166.3%
Calcium 148.3% Iron 36.7%
*Based on a 2000 Calorie diet
Directions
Cranberry/Dijon Spread: combine the first three ingredients together in a blender until smooth and spreadable.
Cream Cheese with Garlic and Herbs: Combine the cream cheese with finely minced garlic, dill and pepper.
Spread the cream cheese on one slice of the bread, and the cranberry/dijon on the other piece of bread. Load up your panini with the swiss cheese, sharp cheddar cheese, turkey and ham. (Pile as high as you want!) Next fry your panini on a lightly greased pan over medium-high heat. If you want the panini marks like mine, use a panini maker :D Cook on each side for about 4 minutes, or until cheese melts. Enjoy!

are u not in lockport group?
Posted on:
5 July 2007 - 11:32pm

no new recipes ?
Posted on:
1 July 2007 - 8:52pm

Aymay11 says :
ahem.. trying to take all the credit for OUR cranberry spread
Posted on:
11 June 2007 - 9:04pm

gals love boys who can cook. ur hot!
Posted on:
10 June 2007 - 1:03am

Looks yummy Joe! I just got a panini press for Christmas, another item I will have to pull out and use!
Posted on:
7 June 2007 - 3:47pm