»

Recipes

»

Japanese

»

Japanese Spinach And Egg Soup
Japanese Spinach and Egg Soup Recipe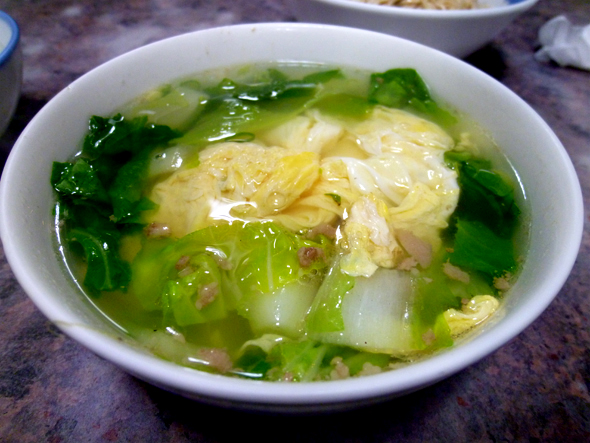 Ingredients
Spinach

1 Pound

, rinsed and drained

Homemade chicken stock

2 Pint

Shallots

2

, thickly sliced

Eggs

2

Soy sauce

2 Tablespoon

Salt

To Taste

Ground black pepper

To Taste
Nutrition Facts
Serving size
Calories 108 Calories from Fat 35
% Daily Value*
Total Fat 4 g6%
Saturated Fat 1.1 g5.4%
Trans Fat 0 g
Cholesterol 75.3 mg
Sodium 659.3 mg27.5%
Total Carbohydrates 10 g3.5%
Dietary Fiber 1.7 g7%
Sugars 3.1 g
Protein 9 g17.7%
Vitamin A 145.5% Vitamin C 37.1%
Calcium 9.3% Iron 16.3%
*Based on a 2000 Calorie diet
Directions
MAKING
1) Remove any tough stems and rotten leaves from the spinach. Coarsely shred the spinach.
2) Into a saucepan, pour in chicken stock. Let it come to a boil.
3) Remove any skin that has gathered at the surface.
4) Into the boiling stock, add in the shallots and spinach. Cook on low flame for 5 minutes or till the shallots become tender.
5) In a small bowl, beat the egg lightly. Add in soy sauce. Stir again and pour into the soup in a single thin stream. Keep stirring to that the egg breaks into strands.
6) Take the pan off the flame.
7) Sprinkle salt and pepper to taste.

SERVING
8) Serve the Japanese Spinach and Egg Soup in hot bowls, garnished with grated cheese if desired.