»

Recipes

»

Oven Baked Jambalaya
Oven Baked Jambalaya Recipe
You'll simply love Jambalaya from the Spainish cusine. An easy to make main course meal, the Jambalaya is one of the best recipes that you can mouth! Please let us know if you agree with us.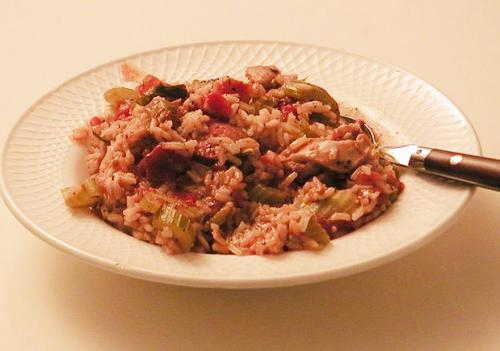 Ingredients
Fat

2 Tablespoon

Onion

1 Cup (16 tbs)

, finley chopped

Green pepper

1 Cup (16 tbs)

, finely chopped

2 cloves garlic, minced fine

Cooked chicken

1 Cup (16 tbs)

, diced

Cooked ham

1 Cup (16 tbs)

, diced

12 tiny pork sausages, cut in pieces

Canned tomatoes

2 1/2 Cup (16 tbs)

, undrained

1 cup raw white rice

Chicken broth

1 1/2 Cup (16 tbs)

Thyme

1/2 Teaspoon

Parsley

1 Tablespoon

, chopped

Chili powder

1/4 Teaspoon

Salt

1 1/2 Teaspoon

Ground black pepper

1/4 Teaspoon
Directions
1. Preheat oven to moderate (350° F.).
2. Melt the fat in a large skillet and add the onion, green pepper and garlic. Cook slowly, stirring often, until the onion and pepper are tender. Add the chicken, ham and sausages and cook five minutes.
3. Add the tomatoes with their liquid, the rice, broth, thyme, parsley, chili, salt and pepper. Turn the mixture into a large casserole. Cover and bake until the rice is tender, about one and one quarter hours.