»

Recipes
Jambalaya Recipe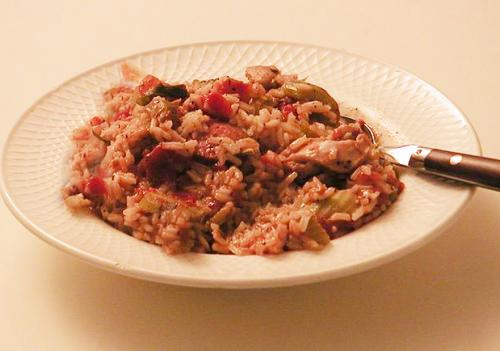 Ingredients
Broiler fryer chicken

4 Pound

, cut in pieces (2 Pieces, 2 Pound Each)

Broiler fryer chicken

4 Pound

, cut into pieces (2 Pieces, 2 Pound Each)

Ham

1 Cup (16 tbs)

, diced, cooked

Diced ham

1 Cup (16 tbs)

, cooked

Butter/Margarine

4 Tablespoon

Garlic

2 Clove (10 gm)

, minced

Onions

2 Large

, chopped to make 2 cups

Canned stewed tomatoes

2 Pound

(2 Cans, 1 Pound Each)

Canned tomatoes

2 Pound

, stewed (2 Cans, 1 Pound Each)

Salt

2 Teaspoon

Chili powder

1⁄2 Teaspoon

Rice

1 Cup (16 tbs)

, uncooked

Celery

2 Cup (32 tbs)

, sliced

Sliced celery

2 Cup (32 tbs)
Nutrition Facts
Serving size
Calories 1446 Calories from Fat 746
% Daily Value*
Total Fat 83 g127.8%
Saturated Fat 27.9 g139.6%
Trans Fat 0 g
Cholesterol 396.6 mg
Sodium 1671 mg69.6%
Total Carbohydrates 71 g23.8%
Dietary Fiber 8.8 g35.2%
Sugars 7.8 g
Protein 102 g203.2%
Vitamin A 61.1% Vitamin C 71.2%
Calcium 21.7% Iron 45.7%
*Based on a 2000 Calorie diet
Directions
MAKING
1) In a Dutch oven, lightly brown the chicken pieces in the butter or margarine, remove and keep aside.
2) Then lightly brown the ham, stir in the garlic and onions, saute for 5 minutes, until softened.
3) Then return the chicken into the oven and stir in the tomatoes, salt and chili powder.
4) Allow to boil , then simmer covered on a low heat for 30 minutes.
5) Stir in the rice and celery and cook for another 30 minutes, or until the chicken and rice are tender.

SERVING
6) Serve immediately on individual serving plates.