»

Recipes

»

Chowder

»

Jack's Sea Coast Chowder
Jack's Sea Coast Chowder Recipe
Jack's Sea Coast Chowder is a mouth watering recipe. An easy to prepare Jack's Sea Coast Chowder wont let you forget its taste forever. So, give it a try and squander its taste!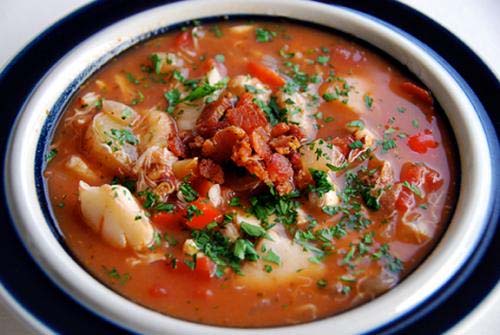 Ingredients
1/2 lb side bacon, diced 250 g

3 or 4 peeled chopped onions

Celery

2 Cup (16 tbs)

, diced

Carrot

2 Cup (16 tbs)

, diced

Potato

4 Cup (16 tbs)

, diced

Parsley

1/4 Cup (16 tbs)

, chopped

4 1/2 lbs mixed fish and seafood—cod 2 kg fillets, cut in 2 inch squares, shrimp, chopped clams, whole shucked clams, crab meat, lobster meat, scallops

2 cups table cream 500 mL

Crumbled crackers

Thyme, basil, salt, pepper, paprika

Thyme, basil, salt, pepper, paprika
Directions
Saute bacon in a large heavy pot until bacon fat is partially rendered.
Add onions, and stir fry until they turn dark yellow.
Add celery, carrot, potatoes and parsley.
Stir and let mixture heat thoroughly until vegetables begin to be clear on the edges and bacon is crisp.
Cover the mixture with water and add herbs and seasonings.
Heat slowly to a boil.
Now add the fish and seafood.
You might need a little more boiling water to keep fish barely covered.
Simmer and stir until fish is flaky.
Add the table cream and taste for seasoning.
Heat thoroughly without boiling and thicken with crumbled crackers, then add dabs of butter.