»

Recipes

»

Italian

»

Italian Tuna Insalata, Beans E Red Onion
Italian Tuna Insalata, Beans e Red Onion Recipe
Here are some real simple yet gourmet styled picnic foods, presented by 2010 JBF Award Winner for Best New Restaurant, chef Michael White of Marea in New York City, in conjunction with Mercedes-Benz. The title of this dish is White's tongue-in-cheek reference to the new Mercedes-Benz E-Cabriolet, a four-seat convertible idyllic for summer driving.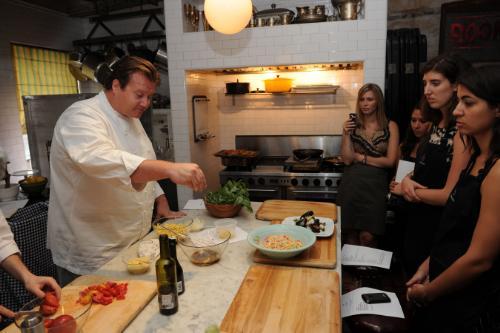 Ingredients
Canned white beans

4 Cup (64 tbs)

, drained, rinsed and chilled

Canned tuna packed in olive oil

9 Ounce

, drained, broken into chunks (1 1/2 Six Ounce Cans)

Red onion

1 Small

, very thinly sliced to make about 1 1/2 cups

Extra virgin olive oil

1⁄4 Cup (4 tbs)

Ground black pepper

To Taste

Salt

To Taste
Nutrition Facts
Serving size
Calories 493 Calories from Fat 170
% Daily Value*
Total Fat 19 g28.6%
Saturated Fat 2.3 g11.3%
Trans Fat 0 g
Cholesterol 22.5 mg
Sodium 300.3 mg12.5%
Total Carbohydrates 52 g17.3%
Dietary Fiber 11.8 g47.2%
Sugars 1.4 g
Protein 29 g57.6%
Vitamin A 0.01% Vitamin C 1.1%
Calcium 17.8% Iron 42.5%
*Based on a 2000 Calorie diet
Directions
Place beans in large bowl. Add tuna and onion; drizzle with oil. Toss gently to combine. Season with salt and a generous amount of freshly ground black pepper.