»

Recipes

»

Italian

»

Italian Tidbits
Italian Tidbits Recipe
Italian Tidbits delicious dish made from egg cheese flour spice. Specially great for holiday chrismas.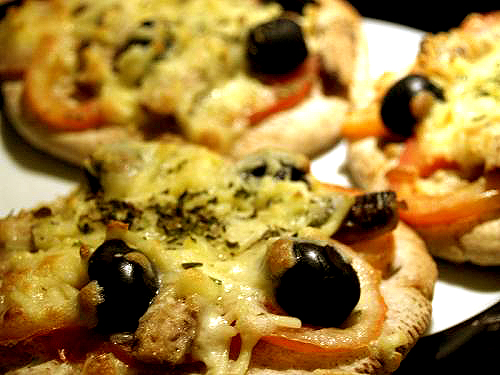 Ingredients
Eggs

6

Non fat milk/Low fat milk 1%

1⁄2 Cup (8 tbs)

All purpose flour

1 Cup (16 tbs)

Grated parmesan cheese

1⁄4 Cup (4 tbs)

Baking powder

1⁄2 Teaspoon

Garlic salt

1⁄2 Teaspoon

Cooking spray

1

Pizza sauce

1⁄3 Cup (5.33 tbs)

Sliced ripe olives

2 1⁄4 Ounce

(drained)

Chopped sweet red pepper/Green pepper

1⁄2 Cup (8 tbs)

Chopped green onions

1⁄4 Cup (4 tbs)

(with tops)

Shredded low moisture part skim mozzarella cheese

2 Ounce
Nutrition Facts
Serving size
Calories 274 Calories from Fat 109
% Daily Value*
Total Fat 12 g19%
Saturated Fat 4.7 g23.7%
Trans Fat 0 g
Cholesterol 268.8 mg
Sodium 578.3 mg24.1%
Total Carbohydrates 24 g8.1%
Dietary Fiber 1.9 g7.6%
Sugars 2.8 g
Protein 16 g32.8%
Vitamin A 28.5% Vitamin C 42.2%
Calcium 24.9% Iron 17.7%
*Based on a 2000 Calorie diet
Directions
In medium bowl or covered blender container, beat together or blend eggs and milk until blended. In small bowl, stir together flour, Parmesan cheese, baking powder and garlic salt. Add to egg mixture. Beat or cover and blend until smooth.

Pour into spray coated 12 x 7-1/2 x 2-inch baking dish. Dollop small spoonfuls of pizza sauce over top. Draw fork through batter, swirling sauce into batter. Sprinkle with olives, pepper and onions. Bake in preheated 325° F oven 20 minutes. Sprinkle with cheese. Bake until knife inserted in center comes out clean, about an additional 5 to 10 minutes. Cut diagonally to form triangles. Serve hot or chill to serve cold.