»

Recipes

»

Italian

»

Italian Hamburger Deep Dish
Italian Hamburger Deep Dish Recipe
Layers of flavored potatoes and ground beef team up with tomato slices and mozzarella cheese for a bountiful one-dish meal.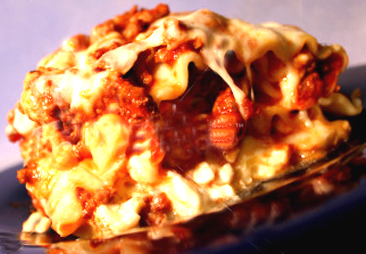 Ingredients
Lean ground beef

1 Pound

Pepper

1⁄8 Teaspoon

Garlic

1 Clove (5 gm)

, finely chopped

Water

2 2⁄3 Cup (42.67 tbs)

Milk

2⁄3 Cup (10.67 tbs)

Butter/Margarine

1⁄4 Cup (4 tbs)

Salt

1 Teaspoon

(if desired)

Instant minced onion

2 Tablespoon

Dried oregano

1 Teaspoon

Mashed potato

2 2⁄3 Cup (42.67 tbs)

(dry)

Tomatoes

4 Medium

, sliced

Mozzarella cheese

4 Ounce

, shredded or sliced
Nutrition Facts
Serving size
Calories 653 Calories from Fat 167
% Daily Value*
Total Fat 19 g29.1%
Saturated Fat 10.1 g50.7%
Trans Fat 0 g
Cholesterol 80.9 mg
Sodium 592.1 mg24.7%
Total Carbohydrates 94 g31.3%
Dietary Fiber 10.1 g40.5%
Sugars 3.7 g
Protein 30 g60.1%
Vitamin A 22.6% Vitamin C 84.1%
Calcium 14.9% Iron 11.3%
*Based on a 2000 Calorie diet
Directions
1. Heat oven to 350ºF. Grease rectangular baking dish, 11x7x1 1/2 inches. Cook beef, 1 teaspoon salt, the pepper and garlic in 10-inch skillet over medium heat, stirring occasionally, until beef is brown; drain.
2. Heat water, milk, butter, 1 teaspoon salt, the onion and oregano to boiling in saucepan. Remove from heat. Stir in dry potatoes just until moistened. Let stand about 30 seconds or until liquid is absorbed. Whip with fork until as fluffy as you'd like. Spread half of the potato mixture on bottom of baking dish. Layer with beef and half of the tomatoes. Top with remaining potatoes and tomatoes; sprinkle with cheese.
3. Bake uncovered about 30 minutes or until hot and bubbly.
High Altitude (3500-6500 ft) Bake about 35 minutes.