»

Recipes

»

Italian Chicken With Tomato Basil And Lemon Couscous
Italian Chicken with Tomato Basil and Lemon Couscous Recipe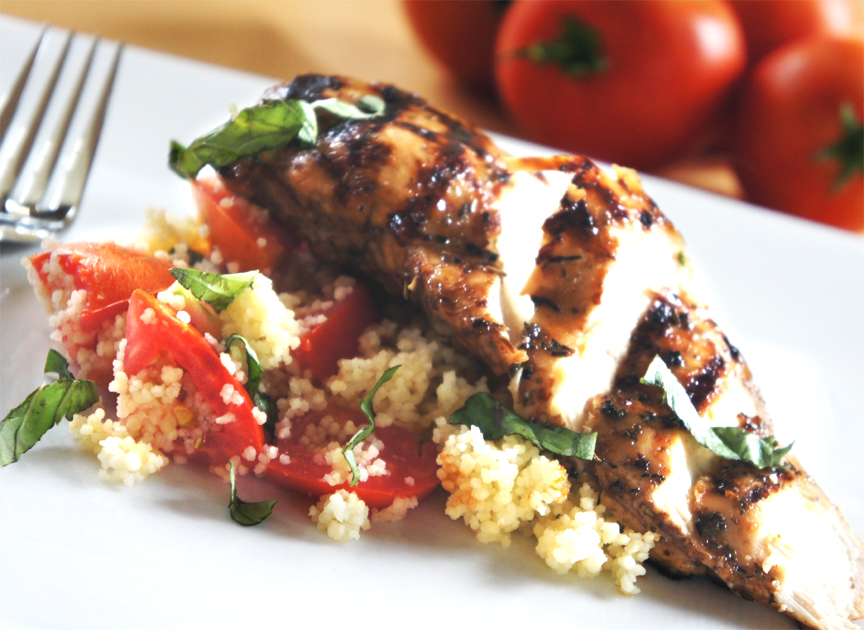 Recipe Story
This is a fantastic weeknight recipe that will be on the table in no time and very notorious!
Ingredients
Chicken breast

1

, split in half

Olive oil

5 Tablespoon

, divided

Lemon juice

1 Tablespoon

(Plus Zest Of Lemon)

Italian seasoning

1 Tablespoon

Water

1 Cup (16 tbs)

Couscous

1 Cup (16 tbs)

Tomatoes

2

, sliced and cut into quarters

Basil

1 Tablespoon

, garnish (More For Garnish)
Nutrition Facts
Serving size
Calories 816 Calories from Fat 349
% Daily Value*
Total Fat 39 g60.7%
Saturated Fat 5.6 g28%
Trans Fat 0 g
Cholesterol 49.9 mg
Sodium 1003.7 mg41.8%
Total Carbohydrates 82 g27.2%
Dietary Fiber 6.3 g25%
Sugars 5.6 g
Protein 33 g66%
Vitamin A 28.8% Vitamin C 35.8%
Calcium 5.8% Iron 13.3%
*Based on a 2000 Calorie diet
Directions
Preheat oven to 375 degrees.

In a bowl whisk together 3 tablespoons of olive oil, with lemon juice and Italian seasoning. Split one chicken breast in half, horizontally and place it in a resalable bag along with the marinade. Allow for the chicken to marinate for 10 minutes.

Following the marinating time heat up an oven safe pan to a high heat and drizzle 2 tablespoons of olive oil on the pan and sear chicken breast on first side for about 4 minutes or until browned. Flip chicken breast and place in the oven for 20 minutes or until the chicken reaches an internal temperature of 165 degrees.

When chicken breast is almost complete start the couscous by putting a pot on a high heat and boil the water with the zest of 1 lemon. Once the water and zest mixture reach a boiling point stir in couscous and cover, then remove from heat for 4 minutes.

After couscous has cooked fluff with a fork and toss in the tomatoes and basil. Plate up the couscous and chicken, then garnish with basil. Serve and Enjoy!