»

Recipes

»

Italian

»

Italian Beef Kabobs
Italian Beef Kabobs Recipe
Balsamic vinegar and fresh oregano take beef kabobs to new flavor heights!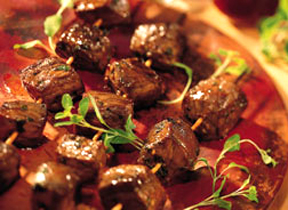 Ingredients
Beef bone-in sirloin/Round steak

3⁄4 Pound

(1 inch thick)

Beef bone in sirloin/Round steak

3⁄4 Pound

(1 inch thick)

Garlic

2 Clove (10 gm)

, finely chopped

Balsamic vinegar

1⁄4 Cup (4 tbs)

Water

1⁄4 Cup (4 tbs)

Chopped oregano leaves/1 teaspoon dried oregano leaves

1 Tablespoon

(fresh)

Olive oil/Vegetable oil

2 Tablespoon

Chopped marjoram leaves/1/2 teaspoon dried marjoram leaves

1 1⁄2 Teaspoon

(fresh)

Sugar

1 Teaspoon
Nutrition Facts
Serving size
Calories 860 Calories from Fat 523
% Daily Value*
Total Fat 58 g89.6%
Saturated Fat 19.5 g97.6%
Trans Fat 0 g
Cholesterol 159.9 mg53.3%
Sodium 184.9 mg7.7%
Total Carbohydrates 9 g3.1%
Dietary Fiber 0.11 g0.42%
Sugars 7 g
Protein 70 g139%
Vitamin A 0.01% Vitamin C 2.6%
Calcium 9.9% Iron 30.1%
*Based on a 2000 Calorie diet
Directions
1. Remove fat from beef. Cut beef into 1-inch pieces.
2. Mix remaining ingredients in medium glass or plastic bowl. Stir in beef until coated. Cover and refrigerate, stirring occasionally, at least 1 hour but no longer than 12 hours.
3. Set oven control to broil. Remove beef from marinade; reserve marinade. Thread beef on each of four 10-inch metal skewers, leaving 1/2-inch space between each piece. Brush kabobs with marinade.
4. Place kabobs on rack in broiler pan. Broil kabobs with tops about 3 inches from heat 6 to 8 minutes for medium-rare to medium doneness, turning and brushing with marinade after 3 minutes. Discard any remaining marinade.