»

Recipes

»

Jewish

»

Israeli

»

Israeli Honey Cookies
Israeli Honey Cookies Recipe
Israeli Honey Cookies are great to be made in order to mark the Jewish New Year. Israelis eat honey and apples on the New year day for a sweet year ahead. Israeli honey cookies can also be made into a food gift for a Jewish family on New Year.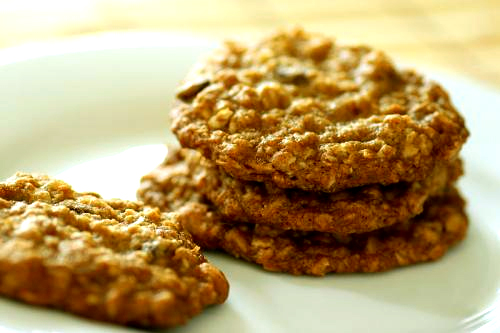 Ingredients
Shortening

1/2 Cup (16 tbs)

Honey

1/2 Cup (16 tbs)

Egg

1

Vanilla

1 Teaspoon

All-purpose flour-1 cup, sifted

Baking powder

1 Teaspoon

Salt

1/4 Teaspoon

Quick-cooking oats -1/2 cup

Nuts

1/2 Cup (16 tbs)

, chopped

Seedless raisins

1/2 Cup (16 tbs)

Semi-sweet chocolate morsels-1 package (1 cup), chopped
Directions
MAKING
1)In a bowl, beat together shortening and honey until light and fluffy.
2)Add egg and vanilla and beat well.
3)In another bowl, sift together flour, baking powder and salt and add to creamed mixture.
4)Add remaining ingredients and blend well.
5)Take a greased baking sheet and drop batter with teaspoon on it. Flatten with tines of a fork.
6)Bake at 375 degrees for 10 minutes.

SERVING
7)Serve the Israeli honey cookies when desired.