»

Recipes

»

European

»

Irish

»

Irish Soda Bread
Irish Soda Bread Recipe
Each St. Patrick's day, I bake this bread for my neighbor, who is Irish. Then I make another loaf for my family to enjoy. Sweet raisins contrast nicely with the caraway.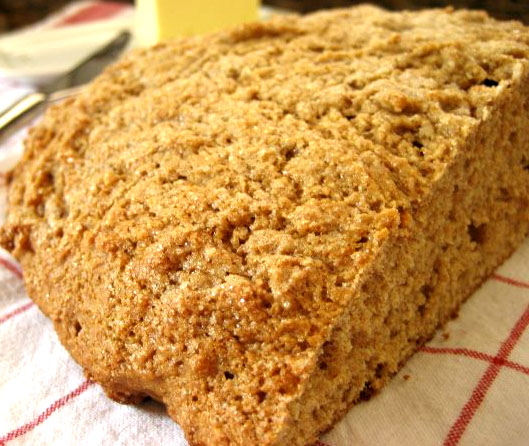 Summary
Preparation Time
20 Min
Cooking Time
1 Hr 20 Min
Ready In
1 Hr 40 Min
Difficulty Level
Bit Difficult
Health Index
Average
Servings
8
Ingredients
All purpose flour

4 Cup (64 tbs)

Sugar

3 Tablespoon

Baking powder

3 Teaspoon

Salt

1 Teaspoon

Baking soda

3⁄4 Teaspoon

Butter

6 Tablespoon

, cold

Raisins

1 1⁄2 Cup (24 tbs)

Caraway seeds

1 Tablespoon

Eggs

2 Small

, beaten

Buttermilk

1 1⁄2 Cup (24 tbs)
Nutrition Facts
Serving size
Calories 470 Calories from Fat 100
% Daily Value*
Total Fat 11 g17.6%
Saturated Fat 6.2 g31%
Trans Fat 0 g
Cholesterol 64.4 mg
Sodium 538.3 mg22.4%
Total Carbohydrates 83 g27.8%
Dietary Fiber 3.7 g14.6%
Sugars 25.9 g
Protein 11 g21.7%
Vitamin A 6.7% Vitamin C 2%
Calcium 18.5% Iron 23.5%
*Based on a 2000 Calorie diet
Directions
In a large bowl, combine the first five ingredients. Cut in butter until mixture resembles coarse crumbs. Stir in the raisins and caraway seeds. Set aside 1 tablespoon beaten egg. In a bowl, combine buttermilk and remaining eggs; stir into crumb mixture just until flour is moistened (dough will be sticky). Turn onto a well-floured surface; knead about 10 times. Shape into a ball.

Place in a greased 9-in. round baking pan. Cut a 4-in. X, 1/4-in. deep, in the center of the ball. Brush the top with reserved egg. Bake at 350 degrees F for 1 hour and 20 minutes or until a toothpick inserted near the center comes out clean. Cover loosely with foil during the last 20 minutes if top browns too quickly. Cool for 10 minutes before removing from pans to a wire rack to cool completely.