»

Recipes

»

European

»

Irish

»

Irish Egg Rolls
Irish Egg Rolls Recipe
"This is the best 'bar food' around. So tasty, so filling, so good. It is a great way to get rid of those corned beef and cabbage dinner leftovers!!!"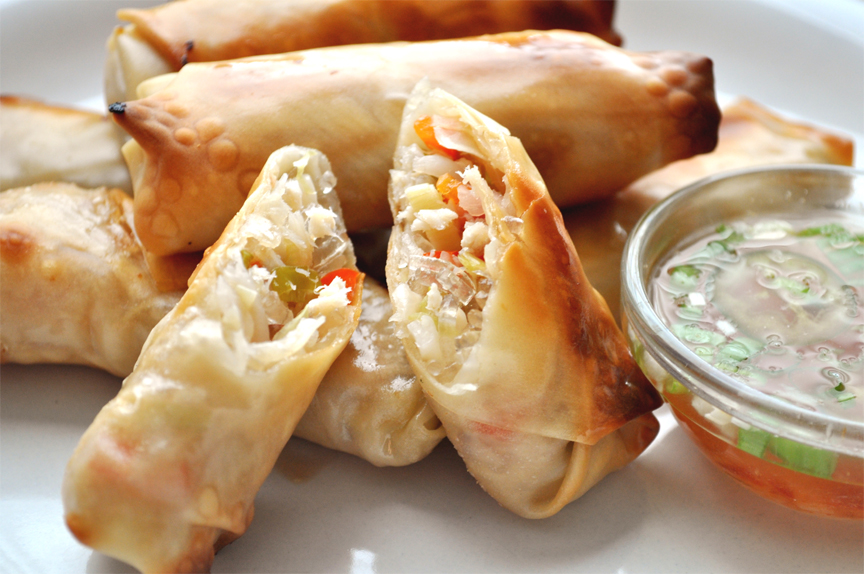 Ingredients
Chopped beef

1 Ounce

, corned

Shredded cabbage

1⁄4 Cup (4 tbs)

, steamed

Diced cooked potatoes

1⁄4 Cup (4 tbs)

Shredded carrot

1⁄4 Cup (4 tbs)

Onion

2 Tablespoon

, thinly sliced

Egg roll wrappers

2

Oil

1⁄2 Cup (8 tbs)

(For deep frying)

Salt

To Taste

Pepper

To Taste
Nutrition Facts
Serving size
Calories 211 Calories from Fat 136
% Daily Value*
Total Fat 15 g23.6%
Saturated Fat 2.2 g10.9%
Trans Fat 0 g
Cholesterol 7.3 mg2.4%
Sodium 449.7 mg18.7%
Total Carbohydrates 14 g4.8%
Dietary Fiber 1.9 g7.7%
Sugars 3.5 g
Protein 5 g9.2%
Vitamin A 157.8% Vitamin C 15.4%
Calcium 2.7% Iron 5.8%
*Based on a 2000 Calorie diet
Directions
1. Heat oil in a deep-fryer to 375 degrees F (190 degrees C).
2. In a medium bowl, mix together the shredded corned beef, cabbage, potatoes, carrot, and onion. Season with salt and pepper to taste. Lay the egg roll wrappers out on a clean dry surface a few at a time. Place about 1/2 cup of the mixture into the center of each wrap. Roll up into logs according to the directions on the package. Wet the edge with water to seal.
3. Fry rolls a few at a time, turning if necessary, for about 5 minutes, or until golden. Remove from hot oil to drain on paper towels.

Ready in 50 min.