»

Recipes

»

European

»

Irish

»

Irish Tea Brack
Irish Tea Brack Recipe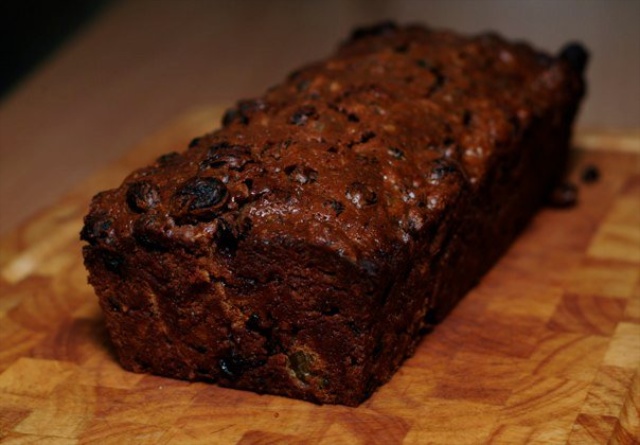 Ingredients
| | | |
| --- | --- | --- |
| | Sultana raisins | 1 1⁄2 Cup (24 tbs) |
| | Currants | 1 1⁄2 Cup (24 tbs) |
| | Cold tea | 1 1⁄2 Cup (24 tbs) |
| | Eggs | 2 Medium |
| | Sugar | 1 Cup (16 tbs) |
| | All-purpose flour | 3 1⁄2 Cup (56 tbs) |
| | Baking powder | 5 Teaspoon |
| | Cinnamon | 1⁄2 Teaspoon |
| | Nutmeg | 1⁄4 Teaspoon |
| | Allspice | 1⁄4 Teaspoon |
Nutrition Facts
Serving size
Calories 500 Calories from Fat 25
% Daily Value*
Total Fat 3 g4.4%
Saturated Fat 0.9 g4.5%
Trans Fat 0 g
Cholesterol 93.1 mg
Sodium 535.3 mg22.3%
Total Carbohydrates 120 g39.9%
Dietary Fiber 5.2 g20.7%
Sugars 90 g
Protein 7 g14.3%
Vitamin A 2.6% Vitamin C 32.3%
Calcium 53% Iron 19.3%
*Based on a 2000 Calorie diet
Directions
GETTING READY
1) Preheat the oven to 325 °F.

MAKING
2) Put fruit in a bowl and pour tea over the fruit.
3) Cover and leave overnight.
4) Beat eggs and stir into fruit mixture.
5) Add sugar, flour, baking powder and spices, mixing all together well.
6) Put into two 8 x 4 x 2 1/2") greased loaf pans
7) Bake in a 325 °F oven for about 1 1/2 hours or until done.
8) Cool in pans 10 minutes and finish cooling on wire rack.

SERVING
9) When cool, slice into thin pieces and spread these with butter.
10) Serve as breakfast or desset as this dish originallly is a cross between cake and bread.