»

Recipes

»

European

»

Irish

»

Irish Sweet Bread
Irish Sweet Bread Recipe
Irish Sweet Bread is an amazingly easy to prepare recipe which cannot just escape your guest's attention in any party. The delicious Irish Sweet Bread will get you a lots of compliments for your creativity.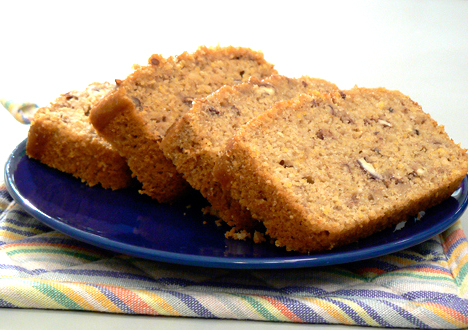 Ingredients
Flour

3 Cup (16 tbs)

, sifted

Salt

1 1/2 Teaspoon

Soda

3/4 Teaspoon

Shortening

1/2 Cup (16 tbs)

Sugar

1/4 Cup (16 tbs)

Molasses

1/4 Cup (16 tbs)

1 egg, unbeaten

1 1/2 cups sour milk or buttermilk

Raisins

1 1/2 Cup (16 tbs)

, chopped

Currants

1 1/2 Cup (16 tbs)

1/4 cup chopped citron or chopped, candied lemon rind
Directions
1. Preheat oven to slow (325° F.).
2. Sift together the flour, salt and soda.
3. Cream together the shortening and sugar and the molasses. Beat in the egg. Alternately add the dry ingredients and sour milk; stir in the fruit.
4. Pour the batter into two greased 8 x 4 x 2 1/2 inch loaf pans and bake one and one-quarter hours.