»

Recipes

»

European

»

Irish

»

Irish Soda Bread With Raisins
Irish Soda Bread With Raisins Recipe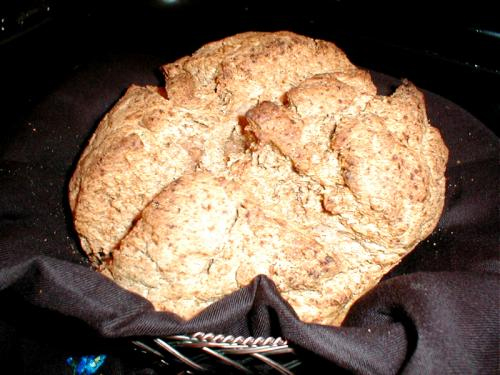 Ingredients
1/2 cup dark seedless raisins

All purpose flour

2 Cup (16 tbs)

Cake flour

1/2 Cup (16 tbs)

Baking soda

1 Teaspoon

1 teaspoon double-acting baking powder

Salt

1/2 Teaspoon

Granulated Sugar

3 Tablespoon

Butter/Margarine

1/2 Cup (16 tbs)

Buttermilk

1 Cup (16 tbs)

Egg white
Directions
About 2 hours before serving: Preheat oven to 400°F.
In small bowl, pour boiling water over raisins; let stand 5 minutes.
Meanwhile, into large bowl, sift all-purpose flour and next 5 ingredients.
Cut in butter with pastry blender or two knives, used scissor-fashion, until mixture resembles coarse crumbs.
Drain raisins; stir into flour mixture.
Add buttermilk all at once; stir vigorously with fork.
Turn mixture onto lightly floured board.
Knead gently 8 to 10 times.
Shape into ball and place in greased 8-inch pie plate.
Brush with slightly beaten egg white.
Bake 15 minutes.
Lower heat to 375°F.
and bake another 30 minutes or until cake tester inserted in center comes out clean.
Remove from pie plate.
Cool 1 hour on rack.
Cut into wedges.