»

Recipes

»

European

»

Irish

»

Easy Irish Soda Bread
Easy Irish Soda Bread Recipe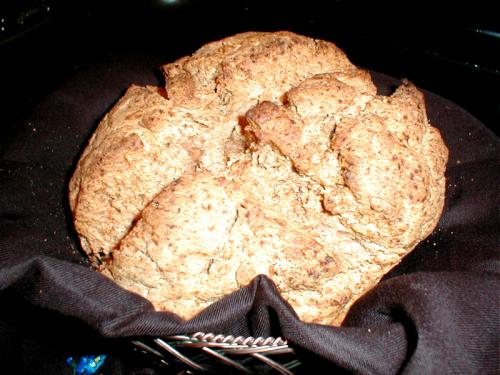 Ingredients
| | | |
| --- | --- | --- |
| | All purpose flour | 4 Cup (64 tbs) |
| | Sugar | 1⁄4 Cup (4 tbs) |
| | Buttermilk | 1 1⁄3 Cup (21.33 tbs) |
| | Salt | 1 Teaspoon |
| | Eggs | 2 Medium |
| | Baking soda | 1 Teaspoon |
| | Butter | 1⁄4 Cup (4 tbs) |
Nutrition Facts
Serving size: Complete recipe
Calories 2677 Calories from Fat 541
% Daily Value*
Total Fat 62 g94.7%
Saturated Fat 32.4 g162%
Trans Fat 0 g
Cholesterol 493.2 mg
Sodium 3445.4 mg143.6%
Total Carbohydrates 446 g148.7%
Dietary Fiber 13.5 g54%
Sugars 52 g
Protein 75 g150.6%
Vitamin A 36.7% Vitamin C
Calcium 13.7% Iron 138%
*Based on a 2000 Calorie diet
Directions
Mix first 4 ingredients; sift into a bowl.
Cut in butter with pastry blender until mixture looks like cornmeal.
Stir in currants.
Mix together remaining ingredients; stir into flour mixture until well moistened, do not overmix.
Turn batter into a greased 2 quart round casserole or souffle dish, cover with paper towel.
Cook in Radarange oven 11 to 12 minutes, turning every 3 minutes.
Let stand 10 minutes; remove to cooling rack.
Image Courtesy :
http://en.wikipedia.org/wiki/Soda_bread

Could you please tell what is a Radarange Oven? Is it a special type of bread oven ?
Posted on:
7 November 2009 - 1:42pm

trev says :
much too fussy. Half pound self raising flour,tblspn oil(olive),salt and whatever else yr little heart desires. whizz in processor adding milk until it balls.microwave on browning plate for couple of minutes or less.Split.Butter.Enjoy.
Posted on:
7 November 2009 - 11:19am