»

Recipes

»

Indian

»

Gujarati

»

Dhokla

»

Instant Dhokla
Instant Dhokla Recipe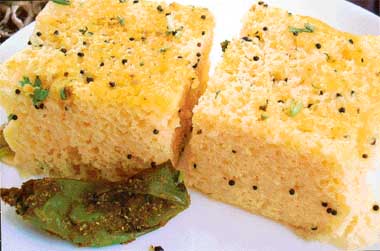 Summary
Preparation Time
15 Min
Cooking Time
25 Min
Ready In
40 Min
Difficulty Level
Very Easy
Health Index
Healthy
Servings
4
Ingredients
| | | |
| --- | --- | --- |
| | Cream of wheat | 2 Cup (32 tbs) |
| | Milk | 2 Cup (32 tbs) |
| | Plain yogurt | 2 Cup (32 tbs) |
| | Green chili paste | 3 Tablespoon |
| | Cilantro leaves | 1⁄4 Cup (4 tbs) |
| | Soda | 1 Teaspoon |
| | Salt | To Taste |
Nutrition Facts
Serving size
Calories 472 Calories from Fat 80
% Daily Value*
Total Fat 9 g13.9%
Saturated Fat 4.7 g23.4%
Trans Fat 0 g
Cholesterol 26 mg
Sodium 849.4 mg35.4%
Total Carbohydrates 80 g26.6%
Dietary Fiber 3.3 g13.3%
Sugars 11.4 g
Protein 17 g34.8%
Vitamin A 50.9% Vitamin C 2.7%
Calcium 52.7% Iron 138%
*Based on a 2000 Calorie diet
Directions
Shift cream of wheat. Mix cream of wheat, milk and plain yogurt to form a batter. Leave the batter for 15 minutes. Add salt, green chili paste, chopped cilantro leaves. Beat the batter. Add soda with a little oil and 2 tbsp. Warm water and beat the batter.
In a pot boil water. Grease a plate and pour the batter and leave in the pot. Steam the dhokla for 20 minutes. Remove and cut into pieces and serve with chutney.

KAJAL VAGHASIYA says :
YOUR ALL RECIPES ARE VERY GOOD AND EASY TO MAKE I LIKE IT VERY MUCH.
Posted on:
7 June 2010 - 7:11am

Looks delicious. This dhokla recipe is also good.
Posted on:
25 April 2008 - 12:35pm