»

Recipes

»

Indian

»

Indian Mango Chutney
Indian Mango Chutney Recipe
Would you like to try Indian Mango Chutney at home? This Mango Chutney recipe is just the way it is prepared in Indian homes. This is a traditional recipe . Mango Chutney is the best Indian condiment .It is a side dish which increases your taste. You must try this Indian Mango Chutney recipe.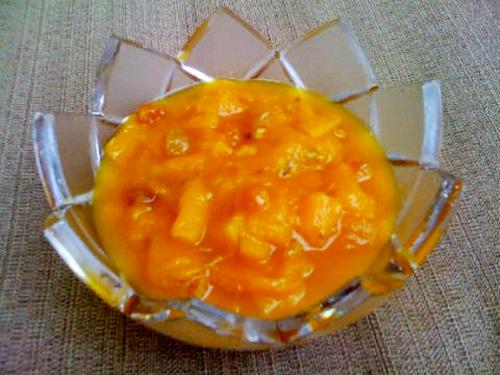 Ingredients
06 ripe mangos

Seedless raisins

1/4 Pound

Ginger

1/2 Pound

Garlic

1 Clove (5gm)

Tamarind

1/4 Pound

Salt

1/4 Pound

Sugar

1/4 Pound

Vinegar

1 Quart
Directions
1.Wash and peel mangos, cutting flesh into strips.
2.Peel garlic and ginger, pound or chop finely.
3.Mix all solid ingredients.
4.Boil vinegar, pour over mixture.
5.Stir well. Bottle.

jimpeterson says :
A half pound of ginger? Come on Guys...don't you read your own recipes?
Posted on:
14 August 2009 - 6:40pm