»

Recipes

»

Indian

»

Indian Vegetable Pasties
Indian Vegetable Pasties Recipe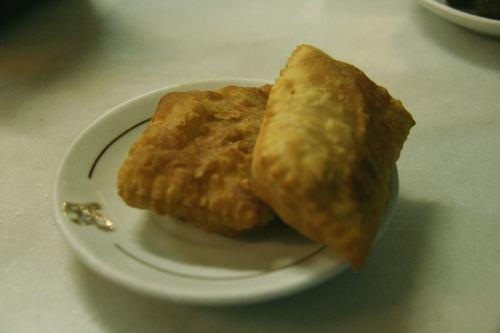 Ingredients
Puff pastry

1 1⁄2 Pound

(750 Gram)

Egg

1

, lightly beaten

For spicy vegetable filling

Vegetable oil

1 Tablespoon

Onion

1 Small

, chopped

Garlic

1 Clove (5 gm)

, crushed

Finely grated fresh ginger

2 Teaspoon

Cumin seeds

2 Teaspoon

Coriander seeds

2 Teaspoon

Garam masala

1 Tablespoon

Ground turmeric

2 Teaspoon

Chili powder

1⁄2 Teaspoon

Peas

2 Ounce

(60 Gram, Fresh Or Frozen)

Tomato

1 Large

, peeled and diced

Small pasta shapes

2 Ounce

, cooked (60 Gram)
Nutrition Facts
Serving size: Complete recipe
Calories 4520 Calories from Fat 2629
% Daily Value*
Total Fat 293 g450.9%
Saturated Fat 41.7 g208.7%
Trans Fat 0 g
Cholesterol 211.5 mg
Sodium 2312.6 mg96.4%
Total Carbohydrates 408 g136.1%
Dietary Fiber 30.9 g123.5%
Sugars 23.7 g
Protein 78 g156.6%
Vitamin A 67.4% Vitamin C 106.7%
Calcium 53.5% Iron 189.5%
*Based on a 2000 Calorie diet
Directions
1. To make filling, heat oil in a frying pan over a low heat, add onion, garlic, ginger, cumin, coriander, garam masala, turmeric and chili powder and cook, stirring, for 5 minutes or until onion softens slightly.
2. Stir in peas and tomato, bring to simmering and simmer for 10 minutes or until any liquid evaporates and mixture thickens. Stir in pasta and set aside to cool.
3. Roll out pastry to 5 mm/1/4 in thick and using a 7.5 cm/3 in round cutter, cut out 40 rounds. Place a teaspoon of filling on each round, fold pastry over filling to form a half-moon shape and pinch edges together to seal.
4. Brush each pastry with egg and place on lightly greased baking trays. Bake at 200°C/400°F/Gas 6 for 12-15 minutes or until pasties are puffed and golden.