»

Recipes

»

Pie

»

Impossible Pumpkin Pie
Impossible Pumpkin Pie Recipe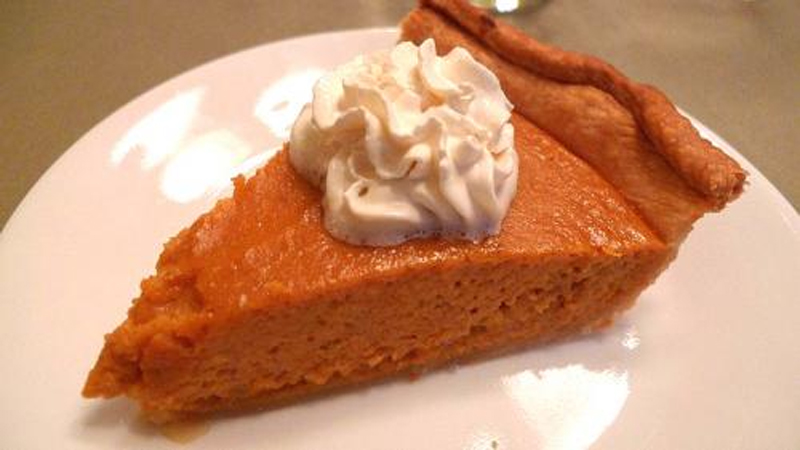 Ingredients
Eggs

2

Salt

1⁄2 Teaspoon

Ginger

1⁄2 Teaspoon

Cinnamon

1 Teaspoon

Cloves

1⁄4 Teaspoon

Nutmeg

1⁄4 Teaspoon

Pumpkin

1 1⁄2 Cup (24 tbs)

Sugar

3⁄4 Cup (12 tbs)

Butter

2 Tablespoon

Bisquick

1⁄2 Cup (8 tbs)

Evaporated milk

1 Can (10 oz)

(plus water to make)

Vanilla

2 Teaspoon
Nutrition Facts
Serving size: Complete recipe
Calories 1849 Calories from Fat 513
% Daily Value*
Total Fat 58 g89.2%
Saturated Fat 32 g159.8%
Trans Fat 0 g
Cholesterol 569.7 mg
Sodium 2473 mg103%
Total Carbohydrates 293 g97.7%
Dietary Fiber 7 g28%
Sugars 192.6 g
Protein 40 g80.9%
Vitamin A 295.3% Vitamin C 35.9%
Calcium 101.7% Iron 23.8%
*Based on a 2000 Calorie diet
Directions
Combine all ingredients in blender and beat on low 2 minutes.
Pour into greased 9 inch Pyrex pie dish.
Bake at 350° for 50-55 minutes.
Good to serve while still warm.
The photo should be removed and replaced. The photo shows a pie with a crust. This recipe does NOT have a pie crust.
Posted on:
5 August 2010 - 2:02pm