»

Recipes

»

Asian

»

Imam Bayildi
Imam Bayildi Recipe
Imam Bayildi is a Turkish delicacy. Imam Bayildi gets its taste from vegetables flavored by pepper and parsley. Imam Bayildi is inspired many food chains worldwide.
Imam Bayildi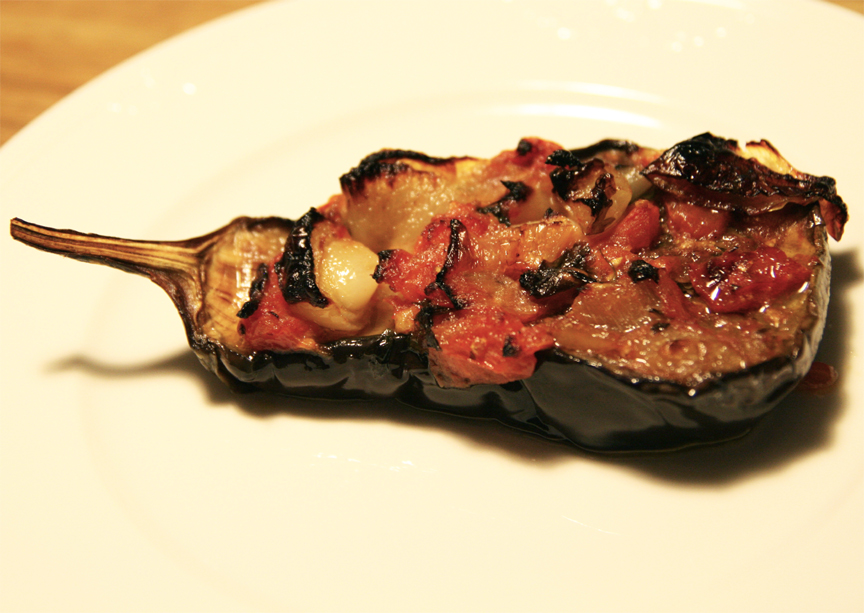 Ingredients
Eggplants

4 Medium

Salt

To Taste

Pepper

To Taste

Olive oil

1⁄2 Cup (8 tbs)

Onions

2

, coarsely chopped

Tomatoes

4 Small

, sliced

Garlic

1 Clove (5 gm)

, crushed

Chopped parsley

1 Tablespoon

Sugar

1 Teaspoon

Bay leaf

1

Finely chopped almonds

1 Tablespoon
Nutrition Facts
Serving size: Complete recipe
Calories 1588 Calories from Fat 1050
% Daily Value*
Total Fat 119 g183.6%
Saturated Fat 16.2 g81.1%
Trans Fat 0 g
Cholesterol 0 mg
Sodium 465.3 mg19.4%
Total Carbohydrates 132 g44%
Dietary Fiber 59.3 g237.4%
Sugars 59.9 g
Protein 24 g48.8%
Vitamin A 94.8% Vitamin C 198.8%
Calcium 30.4% Iron 41.8%
*Based on a 2000 Calorie diet
Directions
Cut the eggplants into halves lengthwise; score the surface, crosswise, leaving shell intact.
Sprinkle with salt and pepper.
Saute the eggplant halves in hot oil in a skillet until the meat can be scooped out easily with a spoon.
Remove from skillet.
Add onion, two thirds of the sliced tomatoes, garlic, chopped parsley and scooped out eggplant pieces to oil in skillet and cook several minutes.
Season with salt, pepper, sugar and bay leaf (to be removed later).
Finally, stir in the chopped almonds.
Stuff eggplant shells with this mixture.
Arrange in a well greased ovenproof dish, cover with the remaining tomato slices and sprinkle lightly with salt and pepper.
Bake in a moderately hot oven (375-400°F or 190-200°C) about 15 minutes.