»

Recipes
Imam Bayildi Recipe
Try this alluring Imam Bayildi recipe. An easily prepared recipe, this Imam Bayildi is a dish which you will always love to serve to your loved ones.
Imam Bayildi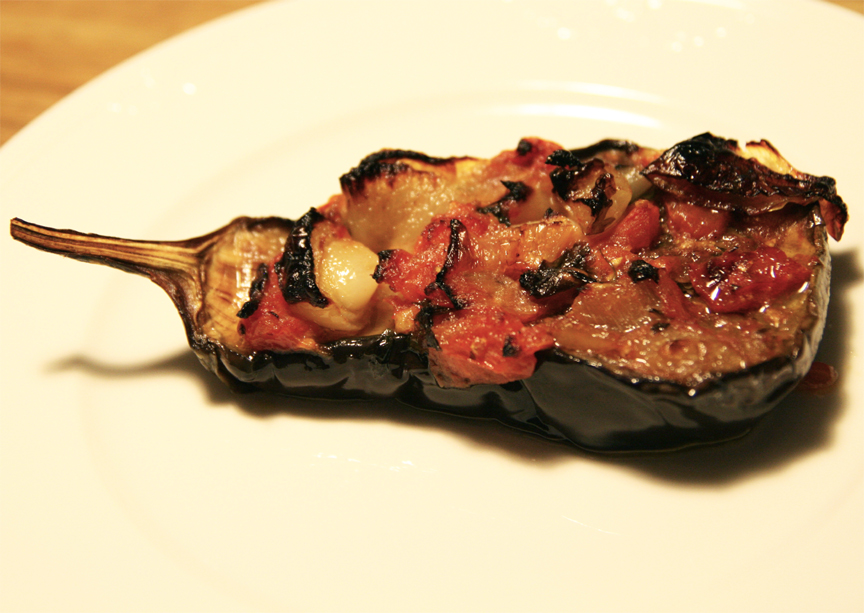 Ingredients
Eggplant

1 Large

Garlic

3 Clove (15 gm)

, minced

Salt

To Taste

Parsley

1 Tablespoon

, chopped

Olive oil

1 Cup (16 tbs)

Onions

1 Pound

, sliced

Water

1⁄2 Cup (8 tbs)

Tomatoes

3 Large

, peeled and chopped

Pepper

To Taste
Nutrition Facts
Serving size: Complete recipe
Calories 2328 Calories from Fat 1932
% Daily Value*
Total Fat 219 g336.4%
Saturated Fat 30.4 g151.8%
Trans Fat 0 g
Cholesterol 0 mg
Sodium 466.2 mg19.4%
Total Carbohydrates 96 g32%
Dietary Fiber 30.7 g122.7%
Sugars 44.7 g
Protein 16 g31.7%
Vitamin A 118.9% Vitamin C 229.4%
Calcium 25% Iron 32.9%
*Based on a 2000 Calorie diet
Directions
Remove leaves from stem end of eggplant.
Pare lengthwise in 1 inch strips, leaving 1 inch strips of skin between.
Make incisions in the pared portions, sprinkle eggplant with salt, and allow to stand for about 10 minutes.
In a heavy kettle brown eggplant in % cup of the olive oil for 5 minutes, turning 2 or 3 times.
Combine remaining oil, onions, tomatoes, garlic, and parsley.
Stuff this mixture into incisions in eggplant.
Return eggplant to kettle and add water and any remaining vegetable mixture.
Bring to a boil, cover, and simmer for 40 minutes or until done.
Cool before serving and serve cold.