»

Recipes

»

Indian

»

Andhra

»

Hyderabadi Subz Biryani
Hyderabadi Subz Biryani Recipe
Hyderabadi Subz Biryani as the name suggests comes from the region of Hyderabad. This exotic Rice dish is filled with a variety of spices, vegetables and great aroma. This dish is partly cooked on Steam/Dum to retain the aroma and rich taste. It makes a great dish for a fun-filled evening with friends and family.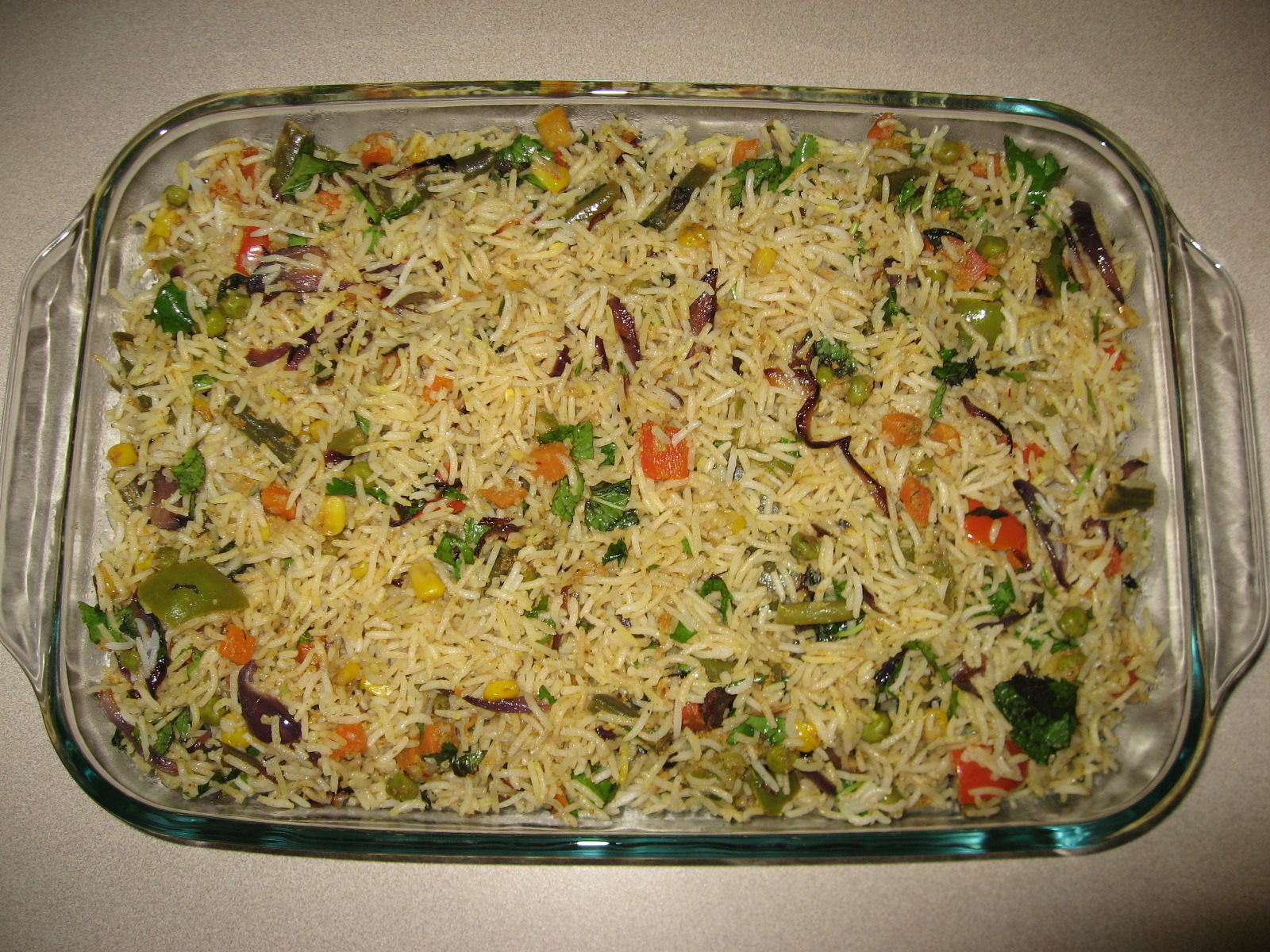 Ingredients
Chopped mixed vegetables

3 Cup (48 tbs)

(such as Carrots)

Basmati rice/Long grain rice

4 Cup (64 tbs)

(cup = rice cooker cup)

Mint

1 Bunch (100 gm)

(pudina)

Coriander/ cilantro

1 Bunch (100 gm)

Onions

2 Large

, julienned

Yogurt

2 Cup (32 tbs)

Lime juice

2 Tablespoon

Clarified butter

1 Tablespoon

(ghee)

Milk

1⁄4 Cup (4 tbs)

Bay leaves

6

Cinnamon sticks

4 Medium

Cloves

8

Shahi jeera

1⁄2 Teaspoon

(Royal Cumin seeds)

Saunf

1⁄2 Teaspoon

(fennel seeds)

Whole black cardamoms

2

Green cardamoms

3

Star anise

3

Mace

3

Saffron

1⁄4 Teaspoon

(1 few strands)

Nutmeg/1/4th tsp of nutmeg powder

1⁄4

(whole)

Coriander powder

2 Teaspoon

(dhaniya powder)

Garam masala powder

1 Teaspoon

Ginger garlic paste

2 Teaspoon

Turmeric powder

2 Pinch

Salt

To Taste

Chili powder

To Taste
Nutrition Facts
Serving size
Calories 605 Calories from Fat 74
% Daily Value*
Total Fat 9 g13.1%
Saturated Fat 4.2 g21.2%
Trans Fat 0 g
Cholesterol 17.4 mg
Sodium 220.1 mg9.2%
Total Carbohydrates 117 g39.1%
Dietary Fiber 7.1 g28.3%
Sugars 7.2 g
Protein 15 g29.1%
Vitamin A 41.6% Vitamin C 28.3%
Calcium 27.1% Iron 23.1%
*Based on a 2000 Calorie diet
Directions
Chop the veggies and marinade them in yogurt, turmeric powder, salt, chilly powder, ginger garlic paste, juice of lime, dhaniya powder, garam masala powder, nutmeg powder, ground shahi jeera and saunf (grind the royal cumin and fennel seeds into a fine powder) and set aside for 30 minutes.

Finely chop Mint and Coriander. Keep aside

Julienne 2 large onions. Heat 6 tbs oil in a deep vessel, fry onions until brown. Remove onions. Keep aside.

In the same vessel, heat 1 tbs clarified butter/ghee. Add bay leaves, cloves, cinnamon sticks, whole cardamoms, green cardamoms, star anise, mace. Saute until bay leaves turn light brownish. Remove the spices. Keep aside.

Wash Basmati Rice, add the fried spices. Add water, let the rice soak for at least 30 minutes and then cook either in rice cooker or on stove.

In the same deep vessel used previously, add another 3 tbs oil/ghee (clarified butter - if you don't mind the calories). Add the marinaded veggies along with yogurt etc, cover with lid and cook until the veggies turn tender. Remove lid and continue cooking until almost 3/4rth of the water evaporates, And do leave some gravy with the veggies. Keep aside.

Once the basmati rice is cooked, you can remove the spices if you want to, else keep it. (I prefer to keep them).

In the deep vessel, at the bottom spread a layer of veggies with gravy and top it with some fried onions and chopped mint and cilantro. Spread some cooked rice over this layer.

Again spread a layer of the remaining veggies with gravy and top it with some more fried onions, chopped mint and cilantro. Spread the remaining cooked rice over this layer. Top it with the remaining fried onions.

Warm 1/4rth cup of milk and add saffron to the warm milk. Mix until color is released (rubbing the saffron between your thumb slightly before dropping them in warm milk helps to release the color). Pour this mixture over the rice. (around the inner rim/corners of the vessel and also in between the vessel)

Cover tightly with lid. Do not let any steam escape. (I usually wet a cotton cloth & tie it tightly around the lid of the vessel, also sealing the lid with wheat dough helps.). Cook on very low flame for 15 minutes. Remove from flame.

Serve Hot with Raita.

Amanda K says :
I was wondering if you know of any recepies for preparing the curd that go with the biryani, and also the chili curry that usually is served with the traditional Hyderabadi Biryani.
Posted on:
19 June 2009 - 3:25pm

Hi Amanda. The curd based side dish that goes with the Biryani is called 'Raitha' and the Chilli curry is called 'Mirch Ka Salan'. I have posted both the recipes in this website. Here are the links. http://www.ifood.tv/recipe/raita_1 http://www.ifood.tv/recipe/mirch_ka_salan
Posted on:
23 June 2009 - 3:45pm

wow... I didn't know you had a veg biriyani recipe. this recipe is quite old i c... can i use soy nuggets. they go very well. can i cook it along with the biriyani or do i need to cook it a little separately when i use them?
Posted on:
27 May 2009 - 12:58am

Sure! You can use soy nuggets. I would suggest boiling them separayely in water and once they become tender, you may mix them with all the vegetables while they are cooking (so that the nuggets can absorb some of the flavor) and later add them to the rice.
Posted on:
27 May 2009 - 4:49pm

Hey! Just checkd out your Hyderabadi Subz Biryani Recipe - going through the recipe itself made me go drool! yum! can i try cooking the rice in microwave? Love, Lia
Posted on:
22 May 2009 - 10:36pm

Hello Gadget Lady! Honestly I havent't tried cooking Rice in the microwave. My first option to cook rice would be the Rice Cooker, next comes the pressure cooker. Let me know if Rice cooks well in the microwave :)
Posted on:
26 May 2009 - 5:45pm

Hi Snigdha, Hmmm...Yummy..Thanks a million for sharing this wonderful recipe!!!!
Posted on:
7 July 2008 - 10:05am

padma says :
Hi if you have cut down on rice to lose wieght...the best substitute is cracked wheat or dalia. This is really healthy and filling.
Posted on:
11 February 2008 - 4:06am

really Snigdha delicious recipe "I love it" thanks for sharing Hyderabadi Subz Biryani recipe... fOODLOVERveerpradeep
Posted on:
6 February 2008 - 10:26am

Thank you Veer. Yes, its a wonderful dish, full of flavor and aroma.
Posted on:
6 February 2008 - 1:07pm

Thanks for the compliment Sarah
Posted on:
15 January 2008 - 12:26pm

delicious recipe Snigdha thansk for sharing with us ... Foodlover Sarah
Posted on:
15 January 2008 - 9:04am

Try brown Jasmine, prple rice from Thailand is also yummy, or if the US try Lundberg's Medley of brown rice, wild rice, and Wehani . Quinoa is a great alternative to rice and VERY healthy! Though technically not a whole grain, quinoa is a whole food that offers a better balance of amino acids than the protein in most true grains. It is rich in iron and magnesium and also provides fiber, vitamin E, copper and phosphorus, as well as some B vitamins, potassium and zinc. The Findings: Quinoa is one of the best plant sources of protein. The United Nations Food and Agriculture Organization (FAO) has compared the nutritional quality of quinoa to that of dried whole milk--a high-quality protein. Quinoa is rich in the essential amino acid lysine, making it a more complete protein than many grains. Quinoa does not contain gluten, so it can be eaten by people who have celiac disease as well as those who are allergic to wheat. Shanti/Mary-Anne
Posted on:
14 January 2008 - 8:30pm

I love rice too. But I am currently cutting down on white rice. I am still on the lookout for a good substitute. We tried the brown basmati rice, but that was too coarse and dry. Anyone found anything good they would recommend here ?
Posted on:
14 January 2008 - 8:14pm

Thanks Sarita. It surely is worth the try :)
Posted on:
14 January 2008 - 6:06pm
Looks delicious...will surely give it a try...I love rice dishes...
Posted on:
14 January 2008 - 6:06pm