»

Recipes

»

Indian

»

Andhra

»

Hyderabadi Chicken Biryani
Hyderabadi Chicken Biryani Recipe
Chicken Hyderabadi Biryani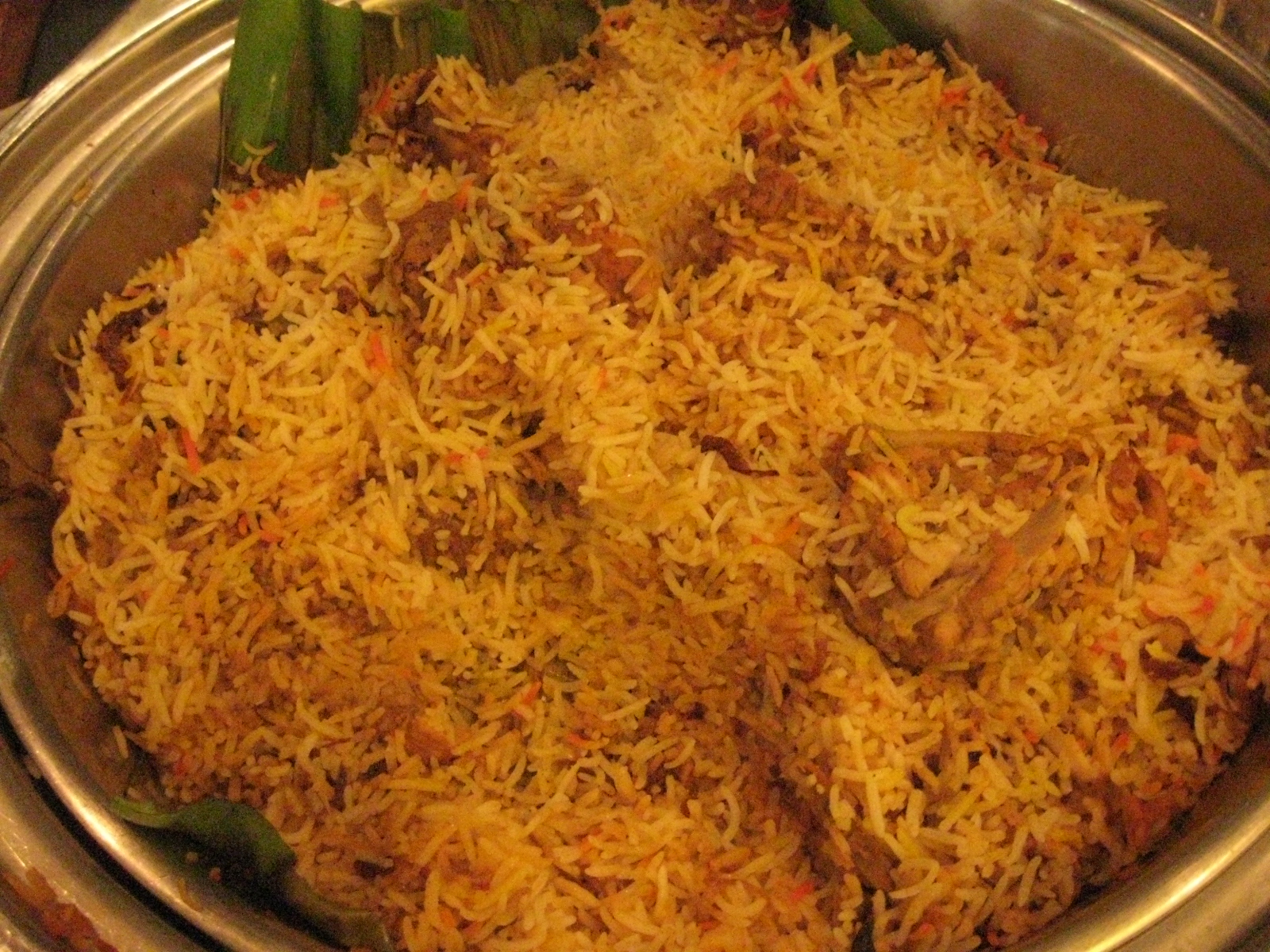 Ingredients
Basmati rice

2 Cup (32 tbs)

Water

1⁄2 Cup (8 tbs)

Ghee

3 Teaspoon

Bay leaf

1

Shajeera

1 Teaspoon

Chicken

500 Gram

Onions

3

Tomatoes

2

Coriander leaves

1⁄2 Bunch (50 gm)

Mint leaves

1⁄2 Bunch (50 gm)

Salt

To Taste

Whole garam masala

1 Tablespoon

(For The Chicken)

Cloves

3

Cinnamon

1 Inch

Cardamom

3

Red chilies

22

Fennel seeds

2 Teaspoon

(Grind The Following To A Paste)

Coriander seeds

2 Tablespoon

(Grind The Following To A Paste)

Poppy seeds

2 Teaspoon

(Grind The Following To A Paste)

Garlic pod

1

(Grind The Following To A Paste)

Ginger

2 Inch

(Grind The Following To A Paste)

Coconut

1⁄2 Cup (8 tbs)

(Grind The Following To A Paste)

Curd

1⁄2 Cup (8 tbs)

(Grind The Following To A Paste)

Cashew nuts

3 Teaspoon

(Grind The Following To A Paste)

Raisins

3 Teaspoon

(Grind The Following To A Paste)

Saffron

1 Pinch

(Grind The Following To A Paste)

Mitha attar

4 Drop

(Grind The Following To A Paste)
Nutrition Facts
Serving size: Complete recipe
Calories 3392 Calories from Fat 991
% Daily Value*
Total Fat 114 g175%
Saturated Fat 42.3 g211.6%
Trans Fat 0 g
Cholesterol 389.9 mg
Sodium 1350.8 mg56.3%
Total Carbohydrates 444 g147.9%
Dietary Fiber 51.7 g206.8%
Sugars 54.7 g
Protein 162 g323.2%
Vitamin A 212.9% Vitamin C 702.3%
Calcium 133.5% Iron 138%
*Based on a 2000 Calorie diet
Directions
Put ghee in a pan and heat it.
Next, add bay leaf and the whole garam masala and fry for 30 seconds.
Add rice and stir the mixture for a minute.
Next, add water and salt.
Cook on high heat till water starts boiling and then cover with lid and simmer till rice is done.
Cooking the chicken Heat oil in a pan.
Put whole garam masala in it and fry.
Add to it the sliced onions and fry it till the onions turn brown.
Add to this Paste 1 and fry for 2 mins.
Next, add the tomatoes to this and fry it till the oil separates.
Now, add the chicken and mix it well.
Also add the coriander and mint leaves.
Add salt and cook till done.
Now, add Paste 2 to this and cook for the next 2 mins.
Divide the cooked rice into 3 and the chicken into 2 parts.
Next, arrange the rice and the chicken in alternate layers.
The bottom and the top layers should be that of rice.
Mix saffron in 1/4 cup of warm milk and pour it over the arranged biryani along with mitha attar.
For garnishing, use raisins and cashew nuts.
Cover the pan with a lid and seal with an aluminum foil.
Cook it for 15-20 mins over a low flame, placing the vessel on a tawa.