»

Recipes

»

Asian

»

Hummus

»

Hummus With Chicken Shawarma
Hummus With Chicken Shawarma Recipe
I prefer to eat hummus with chicken shawarma,I am careful with my intake of red meat & prefer white meat instead.Though hummus is a great dip that goes well with any kind of meat.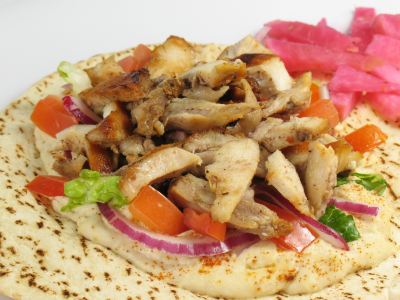 Summary
Preparation Time
10 Min
Cooking Time
1 Hr 20 Min
Ready In
1 Hr 30 Min
Difficulty Level
Medium
Ingredients
Whole boneless chicken

2

Salt

1 1⁄2 Teaspoon

(or to taste)

Black pepper

1⁄4 Teaspoon

Allspice

1⁄4 Teaspoon

Ground cinnamon

1⁄4 Teaspoon

Ground cloves

1⁄4 Teaspoon

Ground red pepper

1⁄4 Teaspoon

Ground cardamom

1 Teaspoon

Lemon juice

2 Tablespoon
Nutrition Facts
Serving size: Complete recipe
Calories 573 Calories from Fat 254
% Daily Value*
Total Fat 30 g45.5%
Saturated Fat 8.4 g41.9%
Trans Fat 0 g
Cholesterol 368.3 mg
Sodium 3580.1 mg149.2%
Total Carbohydrates 10 g3.4%
Dietary Fiber 3.6 g14.6%
Sugars 0.9 g
Protein 75 g149.6%
Vitamin A 7.9% Vitamin C 29.1%
Calcium 6.1% Iron 31.5%
*Based on a 2000 Calorie diet
Directions
Marinate chicken with lemon & spices for an hour or two.Place meat in a baking dish & bake it till the upper layer of chicken turns light brown,then turn it over & cook from the other side as well till that also turns brown.
Cool chicken a bit,cut it into small squares & return to pan witj

Let chicken cool slightly. Cut in thin strips.On a palette place chicken at the center and surround it with Hummus.
Serve it hot with pita bread or you can have it just as it is.

caroline01 says :
You can also join the insiders at http://www.theinsiders.eu/ and be part of the tasty houmous campaign? We really enjoy the variety and possibilities at the moment.
Posted on:
18 June 2012 - 8:27am

Anonymous says :
dont u need that machine?
Posted on:
12 July 2011 - 4:13pm

One of the most important ingredients to marinade meat for shawarma is yogurt.
Posted on:
18 January 2008 - 6:11pm