»

Recipes

»

Egg

»

Cute Shaped Hard Boiled Eggs
Cute Shaped Hard Boiled Eggs Recipe
Hard boiled eggs can be fun and cute looking too! Just buy cutely designed egg molds; they are the only extra tools you would need for this simple recipe. To keep the yolk centered in the egg while you are boiling it (so it doesnt show through in the mold), you can just spin the egg in the pot while you are boiling it.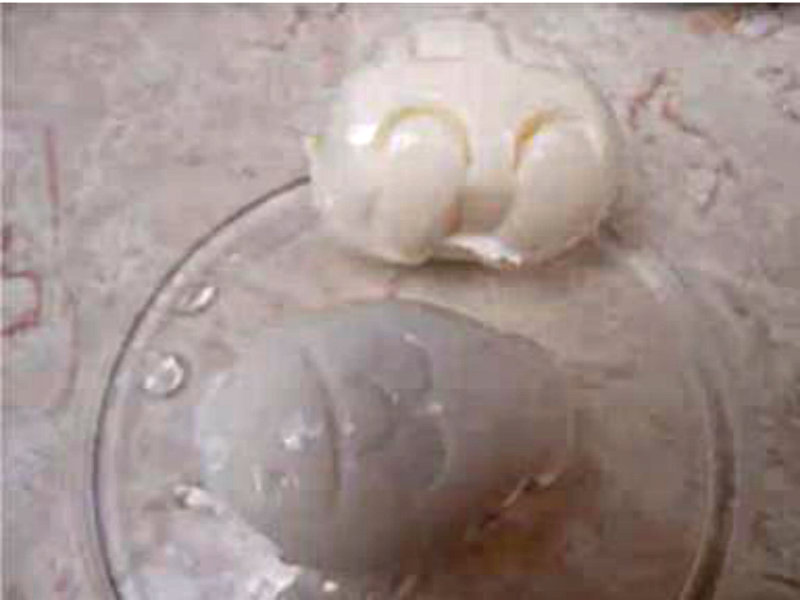 Nutrition Facts
Serving size: Complete recipe
Calories 143 Calories from Fat 89
% Daily Value*
Total Fat 10 g15.3%
Saturated Fat 3.1 g15.5%
Trans Fat 0 g
Cholesterol 423 mg
Sodium 140 mg5.8%
Total Carbohydrates 0.77 g0.26%
Dietary Fiber 0 g
Sugars 0.8 g
Protein 13 g25.2%
Vitamin A 9.7% Vitamin C
Calcium 5.3% Iron 10.2%
*Based on a 2000 Calorie diet
Directions
MAKING
1. In a pot add in the water and boil.
2. Add in the eggs carefully and boil for 10 minutes.
3. Take out the eggs from the pot, peel the shells and place the hardboiled egg into the mould.
4. Snap the mould in place and dunk it in cold water.
5. After about 5 minutes take out the hardboiled egg from the mould.

SERVING
6. Serve hard boiled eggs with bread toast.
Editors Review
Want your kids to eat hard boiled eggs, try this Cute shaped hard boiled eggs recipe. These are normal hard boiled eggs which are put into molds in the shape of a car or a fish, to make it look more appealing to kids. What is more, you can even color them!

WoW ! Cute Shaped Hard Boiled Eggs are really an interesting variation from the normal oval ones. I 've always loved food art ! Please do come up with other such dishes too.
Posted on:
17 September 2009 - 8:13am