»

Recipes

»

Chinese

»

Stir Fry Noodles With Tofu & Apples
Stir Fry Noodles with Tofu & Apples Recipe
Curry stir fry noodles with tofu and apples is a simple recipe. This is a recipe which can be made with any ingredients you have in pantry. The dish ultimately made is delicious and yummy. Curry stir fry noodles with tofu and apples is an easy and simple recipe to follow and prepare.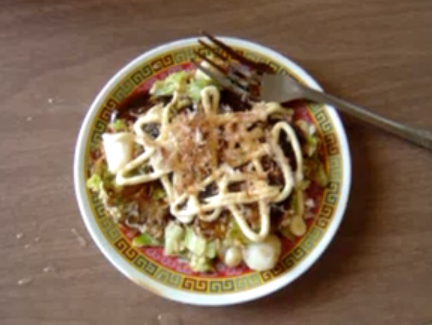 Ingredients
Firm tofu

250 Gram

Garlic

4 Clove (20 gm)

Oyster sauce

1 Tablespoon

Hoisin sauce

2 Tablespoon

Spaghetti

250 Gram

Apple

2

, diced (or any fruit)

Cinnamon powder

1 Teaspoon

Curry powder

1 Teaspoon

Olive oil

1 Tablespoon
Nutrition Facts
Serving size
Calories 740 Calories from Fat 139
% Daily Value*
Total Fat 16 g24.6%
Saturated Fat 2.3 g11.7%
Trans Fat 0 g
Cholesterol 0.45 mg
Sodium 462.1 mg19.3%
Total Carbohydrates 130 g43.4%
Dietary Fiber 6.4 g25.6%
Sugars 19.9 g
Protein 31 g62.7%
Vitamin A 2.3% Vitamin C 17.4%
Calcium 35.8% Iron 42.3%
*Based on a 2000 Calorie diet
Directions
MAKING
1. In a pan pour in the water and bring to boil. Add in the spaghetti and cook according to package instruction.
2. Drain the spaghetti and set aside.
3. In a pan add in the olive oil, garlic and spaghetti stir fry for few minutes.
4. Add in the oyster sauce, hoisin sauce, tofu and curry powder. Stir for few minutes.
5. Crack the egg and add into the noodles. Stir for few minutes on medium heat.
6. Add in the apple and cinnamon, stir again.

SERVING
7. Serve Stir Fry Noodles with your favorite sauce and enjoy!
Editors Review
If you want to get creative with your cooking, watch this video of Stir fry noodles with tofu and apples recipe. This preparation has been put together creatively with whatever ingredients found in the kitchen. This recipe uses apple, but you can also use pineapples or mangoes.