»

Recipes

»

Japanese

»

Traditional Miso Soup
Traditional Miso Soup Recipe
Miso soup is a Japanese recipe. It is very simple and easy dish to prepare. The ingredients can be varied so also the proportions. Miso soup can be served as a meal stand alone or as appetizer or even at the breakfast time.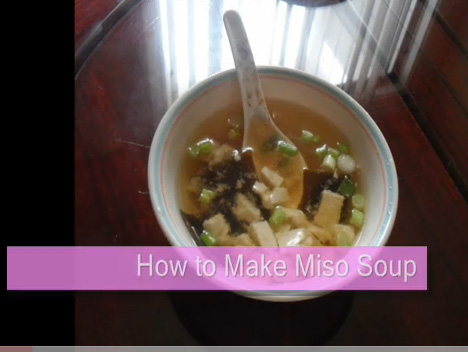 Ingredients
Kombu

1⁄4 Cup (4 tbs)

, cut in 1 inch pieces (Handful)

Soft tofu

12 Ounce

Miso premixed with broth

5 7⁄25 Ounce

(1 Package - Dashi Type)

Bonito broth

2 1⁄4 Ounce

(For Non Dashi Miso Only)

Chopped green onions

1 Cup (16 tbs)
Nutrition Facts
Serving size
Calories 58 Calories from Fat 10
% Daily Value*
Total Fat 1 g1.8%
Saturated Fat 0.02 g0.1%
Trans Fat 0 g
Cholesterol 0 mg
Sodium 2840 mg118.3%
Total Carbohydrates 7 g2.2%
Dietary Fiber 4.7 g18.9%
Sugars 1.3 g
Protein 5 g10.5%
Vitamin A 38.3% Vitamin C 36.5%
Calcium 3.8% Iron 5.9%
*Based on a 2000 Calorie diet
Directions
1. Soak kombu in water for 20 minutes.
2. Cut sotu into small cubes.
3. Boil water. Turn off the heat.
4. Mix desired amount of miso in hot water.
5. Add kombu, tofu and green onions.
6. Stir everything and serve.

(If you are using non dashi type miso then prepare bonito first.)
Editors Review
Are you looking for a soup, which can be filling as a meal, try this Traditional Miso soup. This soup can be served as an appetizer, as a stand-alone meal or even as a breakfast. This authentic recipe is from Japanese cuisine and is very simple and easy to prepare. Another advantage is that the ingredients can be varied as also the proportions.