»

Recipes

»

Egg

»

Chive Deviled Eggs
Chive Deviled Eggs Recipe
Deviled eggs make very good breakfast dish. They are easy to make. Deviled eggs can be prepared very quickly. There are as many variations possible to this recipe. You can enjoy deviled eggs for snack or as a side dish also.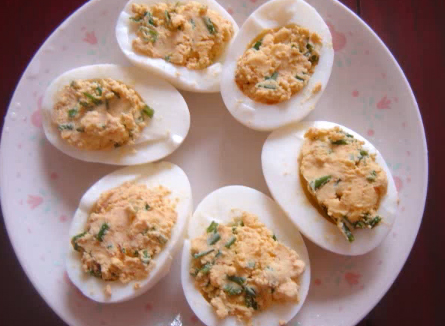 Ingredients
Eggs

3

Curry powder

2 Pinch

Chives

1 Ounce

, diced

Mayonnaise

1 Tablespoon
Nutrition Facts
Serving size
Calories 111 Calories from Fat 81
% Daily Value*
Total Fat 9 g13.9%
Saturated Fat 1.9 g9.7%
Trans Fat 0 g
Cholesterol 215 mg
Sodium 93.7 mg3.9%
Total Carbohydrates 1 g0.4%
Dietary Fiber 0.38 g1.5%
Sugars 0.6 g
Protein 7 g13.3%
Vitamin A 13.2% Vitamin C 9.2%
Calcium 3.7% Iron 6.6%
*Based on a 2000 Calorie diet
Directions
1. Boil eggs. The water should completely cover eggs.
2. Simmer for 15 minutes.
3. When eggs are done, put them in ice cold water.
4. Crack, peel and cut the eggs lengthwise.
5. Scoop out yolks and add chives to it.
6. Add mayonnaise and curry powder to the mixture.
7. Mix it well and spoon it into egg whites.
Serve.
Editors Review
For all those of you who love eggs, try this Chive deviled eggs recipe. In this recipe, the chive mixture is filled into halved eggs which are boiled. This makes for a breakfast, snack as well as a side dish. To top it, it is a tasty and healthy dish.