»

Recipes

»

Lemon

»

Creamy Lemon Squares
Creamy Lemon Squares Recipe
Lemon squares are the stars of any dessert buffet. We wonder why they aren't at every party.  It may have something to do with making the traditional shortbread crust!  Michelle McAdoo for the Kraft Kitchens shares a simplified recipe for creamy lemon squares that's almost as easy to make as they are to enjoy.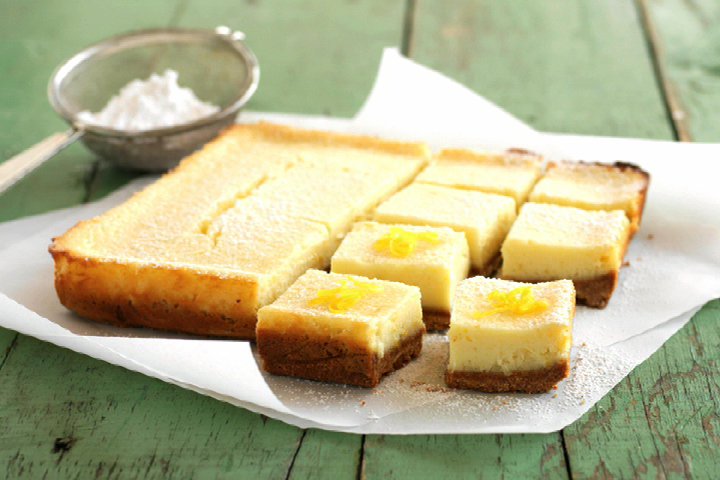 Ingredients
20 Reduced Fat NILLA Wafers, finely crushed (about 3/4 cup)

Flour

1/2 Cup (16 tbs)

Packed brown sugar

1/4 Cup (16 tbs)

Margarine

1/4 Cup (16 tbs)

Neufchatel cheese package

1

, softened

Granulated Sugar

1 Cup (16 tbs)

Eggs

2 Small

Flour

2 Tablespoon

Lemon zest

3 Tablespoon

, divided

Lemon juice

1/4 Cup (16 tbs)

1/4 tsp. CALUMET Baking Powder

Powdered sugar

2 Teaspoon
Directions
Heat oven to 350ºF.

Line 8-inch square pan with foil.

Mix wafer crumbs, 1/2 cup flour and brown sugar in medium bowl.

Cut in margarine with pastry blender or 2 knives until mixture resembles coarse crumbs; press onto bottom of prepared pan.

Bake 15 min.

Beat Neufchatel and granulated sugar with mixer until well blended.

Add eggs and 2 Tbsp. flour; mix well.

Blend in 1 Tbsp. zest, juice and baking powder; pour over crust.

Bake 25 to 28 min. or until center is set.

Cool completely.

Refrigerate 2 hours.

Sprinkle with powdered sugar and remaining zest before serving.

Tips
- Substitute 1 Tbsp. each lemon, lime and orange zest for the 3 Tbsp. lemon zest.
- For a softer crust, reduce the crust baking time from 15 min. to 5 min.
- You should get about 1 Tbsp. zest and 2 Tbsp. juice from 1 lemon.