»

Recipes

»

Juice

»

Apple Wine From Apple Juice
Apple wine from apple juice Recipe
If you are new to wine brewing, then apple wine is a great way to start off with. Apple wine can be made from fresh apple, apple juice, canned apple juice, apple sauce, or even apple cider; I however, prefer to make apple wine from apple juice. The wine is sweet with a very slight tanginess, which makes it a perfect wine to have with your meal. To know how I brew apple wine, read on.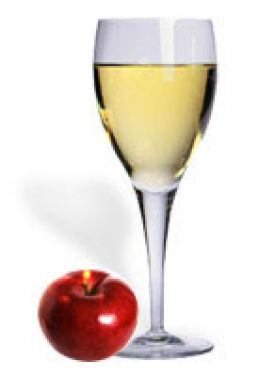 Ingredients
| | | |
| --- | --- | --- |
| | Apple juice | 1 Gallon |
| | Honey | 1 Pound |
| | Acid blend | 1 Teaspoon |
| | Brewers yeast/Wine yeast | 1 Pound |
| | Nutritional yeast | 2 Teaspoon |
| | Peptic enzyme | 1 Teaspoon |
Nutrition Facts
Serving size: Complete recipe
Calories 4979 Calories from Fat 2
% Daily Value*
Total Fat 32 g49.5%
Saturated Fat 0.02 g0.12%
Trans Fat 0 g
Cholesterol 0 mg
Sodium 304.3 mg12.7%
Total Carbohydrates 979 g326.5%
Dietary Fiber 113.7 g454.9%
Sugars 745.5 g
Protein 226 g452.4%
Vitamin A Vitamin C 3.8%
Calcium 2.9% Iron 868.1%
*Based on a 2000 Calorie diet
Directions
1. In a clean glass jar mix apple juice, honey, acid blend, yeast nutrient, and crushed campden tablet. Stir to mix all the ingredients well. Now cover the jar and allow the brew to stand overnight.
2. After around 8 - 12 hrs mix the peptic enzyme in, cover, and set aside overnight or for up to 12 hrs. The next day add activated yeast to the mixture, stir, and cover and set aside for at least 1 week. Remember to open the jar and stir once a day daily.
3. At the end of 1 week, open the jar - stir, and taste the brew. Adjust the sweetness and acid by adding some honey, acid blend, or a ¼ tsp of tannins if need be.
4. Now transfer the contents to a home fermenter, seal with a rubber cork, insert the air lock, and set aside for fermentation in a cool and dark spot. Optimally the temperature must be maintained at 65oF to 75oF.
5. The Apple wine is ready when no more air bubbles are seen rising into the airlock. Now bottle the wine and have it immediately or rack it to age for a better vintage like taste.