»

Recipes

»

Chicken

»

Baked Crispy Chicken
Baked Crispy Chicken Recipe
Yummy Crispy Chicken is one of those sinfully delicious treats and I know you love it. But wouldn't you love it better if you can have healthier and tastier baked crispy chicken? Here is a brilliant baked Crispy Chicken recipe that you will definitely enjoy.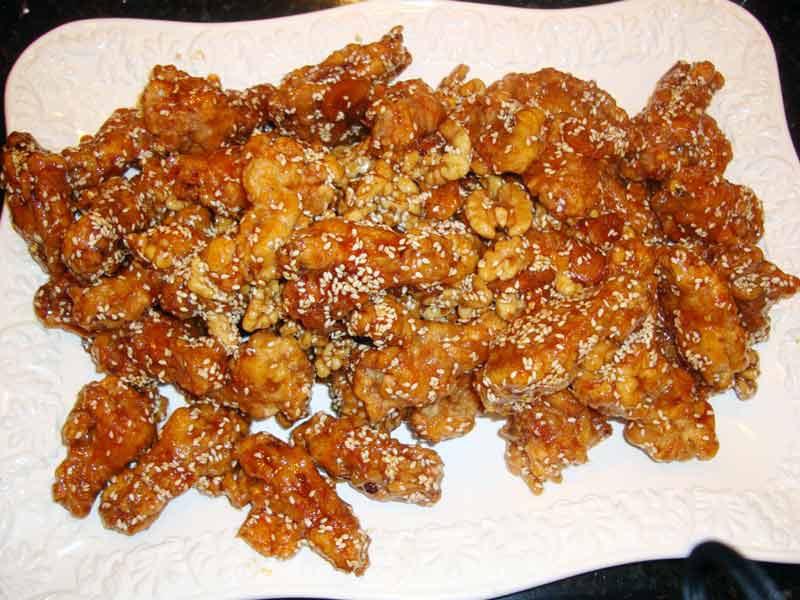 Ingredients
Flour

1/4 Cup (16 tbs)

Whole wheat flour

1/4 Cup (16 tbs)

Garlic powder

1/2 Teaspoon

Pepper

1/4 Teaspoon

Salt

1/2 Teaspoon

Egg whites

2

Low fat buttermilk

1/2 Cup (16 tbs)

Corn flakes

4.5 Cup (16 tbs)

, crushed

Sesame seeds

4 Tablespoon

2-3 pounds medium sized boneless chicken pieces.
Directions
1. Line a medium sized baking pan with aluminum foil and grease it. Preheat the oven to 375 degrees.

2. Mix Flour, whole wheat flour, garlic powder (You can use finely chopped garlic instead) and season the mixture with salt and pepper.

3. Beat the egg whites and buttermilk.

4. Make a separate mixture of crushed cereals and sesame (Till) seeds.

5. Dip the medium sized Chicken pieces first in the flour, then the egg mixture and then the cereal mixture

6. Place in the lined baking tray and bake. After 50 to 60 min..voila!!you have your baked crispy chicken!

TIP: Ensure that the pieces are not crowded, as it will not bake well if crowded. If needed, bake in two batches.