»

Recipes

»

Eggnog

»

Hot Spicy Apple Eggnog
Hot Spicy Apple Eggnog Recipe
Hot and spicy apple eggnog is a twist on the classic eggnog recipe. Made with apple juice, milk and eggs, the hot apple eggnog is spiced ith cinnamon and nutmeg. Topped with a dollop of whipped cream, this drink is set to be served.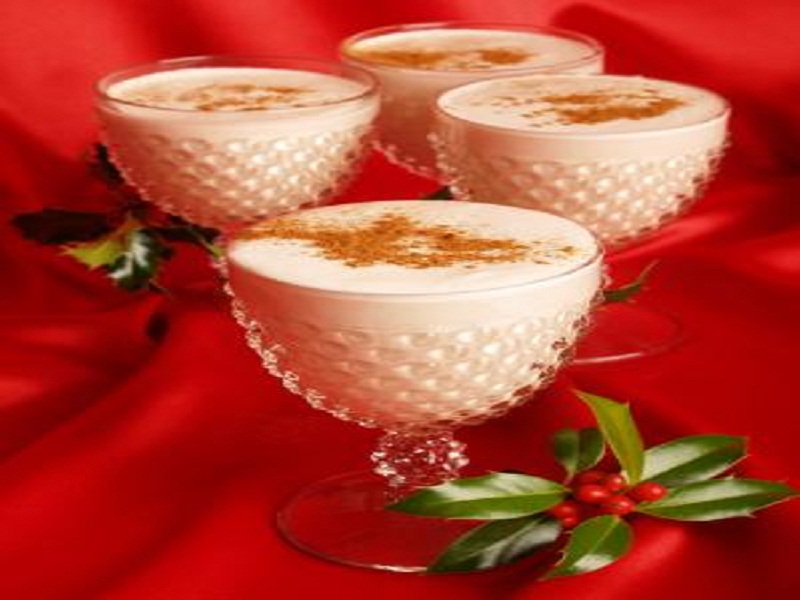 Ingredients
Eggs

2

, separated

Heavy cream

1⁄2 Cup (8 tbs)

, whipped

Sugar

1⁄4 Cup (4 tbs)

Salt

1⁄2 Teaspoon

Nutmeg

1 Dash

Apple juice

3⁄4 Cup (12 tbs)

Milk

3 Cup (48 tbs)

, scalded
Nutrition Facts
Serving size: Complete recipe
Calories 1233 Calories from Fat 679
% Daily Value*
Total Fat 76 g117.7%
Saturated Fat 43.5 g217.3%
Trans Fat 0 g
Cholesterol 655.2 mg
Sodium 1432 mg59.7%
Total Carbohydrates 108 g36.1%
Dietary Fiber 0.07 g0.26%
Sugars 103.2 g
Protein 37 g73.8%
Vitamin A 58.9% Vitamin C 1.2%
Calcium 89.9% Iron 14.1%
*Based on a 2000 Calorie diet
Directions
Beat egg whites with rotary beater until stiff.
Blender whip cream and set aside.
Put egg yolks, sugar, salt, cinnamon, nutmeg and apple juice in Osterizer container cover and process at STIR until sugar is dissolved.
Remove feeder cap and add scalded milk slowly.
When well blended pour over egg whites and quickly fold together.
Serve hot topped with a mound of whipped cream.