»

Recipes

»

Hot Dog

»

Hot Dog Casserole
Hot Dog Casserole Recipe
Potatoes create a base for this classic combination of hot dogs and condiments.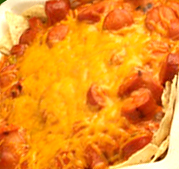 Ingredients
Water

1 1⁄3 Cup (21.33 tbs)

Milk

1⁄3 Cup (5.33 tbs)

Butter/Margarine

2 Tablespoon

Salt

1⁄2 Teaspoon

Mashed potato

1 1⁄3 Cup (21.33 tbs)

(dry)

Sweet pickle relish

1⁄4 Cup (4 tbs)

Mayonnaise/Salad dressing

2 Tablespoon

Instant minced onion

1 Tablespoon

Yellow mustard

2 Teaspoon

Hot dogs

6
Nutrition Facts
Serving size
Calories 668 Calories from Fat 318
% Daily Value*
Total Fat 35 g54.6%
Saturated Fat 14.1 g70.5%
Trans Fat 0 g
Cholesterol 65.4 mg
Sodium 1279.6 mg53.3%
Total Carbohydrates 75 g25%
Dietary Fiber 6.8 g27.3%
Sugars 6.9 g
Protein 16 g31.8%
Vitamin A 8.1% Vitamin C 49.6%
Calcium 3.3% Iron 6.6%
*Based on a 2000 Calorie diet
Directions
1. Heat oven to 350ºF. Heat water, milk, butter and salt to boiling in 2-quart saucepan. Remove from heat. Stir in dry potatoes just until moist. Let stand about 30 seconds or until liquid is absorbed. Whip with fork until as fluffy as you'd like. Stir in relish, mayonnaise, onion and mustard. Spread in ungreased 1-quart casserole.
2. Cut each hot dog lengthwise in half, then crosswise in half. Arrange hot dog pieces around edge of mashed potatoes.
3. Bake uncovered 25 to 30 minutes or until center is hot.
High Altitude (3500-6500 ft) No changes.