»

Recipes

»

Soup

»

Hot And Sour Soup
Hot and Sour Soup Recipe
Ideal as a starter in a Thai meal. Not very filling, but a great appetizer. Very quick and easy to prepare. The tom yum paste is hot, so try the soup before adding the chile and decide if any extra heat is required. Do not attempt if you do not have fresh coriander, as this is vital!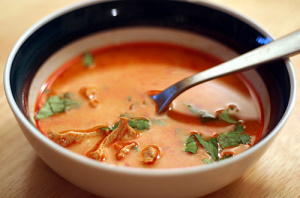 Ingredients
Chicken stock

3 Cup (48 tbs)

Tom yum paste

1 Tablespoon

Garlic

1⁄2 Clove (2.5 gm)

, finely chopped

Lemon grass stalk

3

, chopped

Kaffir lime leaves

2

Boneless, skinless chicken breast halves

2

, shredded

Fresh mushrooms

4 Ounce

, thinly sliced

Fish sauce

1 Tablespoon

Lime juice

1 Tablespoon

Chopped green chile pepper

1 Teaspoon

Fresh coriander

1 Bunch (100 gm)

, chopped

Basil sprig

1

, chopped (fresh)
Nutrition Facts
Serving size
Calories 205 Calories from Fat 27
% Daily Value*
Total Fat 3 g4.6%
Saturated Fat 0.7 g3.5%
Trans Fat 0 g
Cholesterol 44.2 mg
Sodium 718.9 mg30%
Total Carbohydrates 26 g8.7%
Dietary Fiber 0.83 g3.3%
Sugars 3.6 g
Protein 21 g41.8%
Vitamin A 27.9% Vitamin C 17.6%
Calcium 3% Iron 19.9%
*Based on a 2000 Calorie diet
Directions
1. In a large saucepan, bring the chicken stock to a boil. Stir in the tom yum paste and garlic, and cook for about 2 minutes. Stir in the lemon grass and kaffir lime leaves. Place the chicken in the saucepan, and cook 5 minutes, or until no longer pink and juices run clear.

2. Mix in the mushrooms. Add the fish sauce, lime juice, and green chile pepper. Continue cooking until well blended. Remove from heat, and serve warm with the coriander and basil.