»

Recipes

»

Milk

»

Hot Milk Drink
Hot Milk Drink Recipe
This Hot Milk Drink is an easy-to-prepare beverage. An amazingly delicious recipe, Hot Milk Drink is a beverage that you would surely love to talk about with us!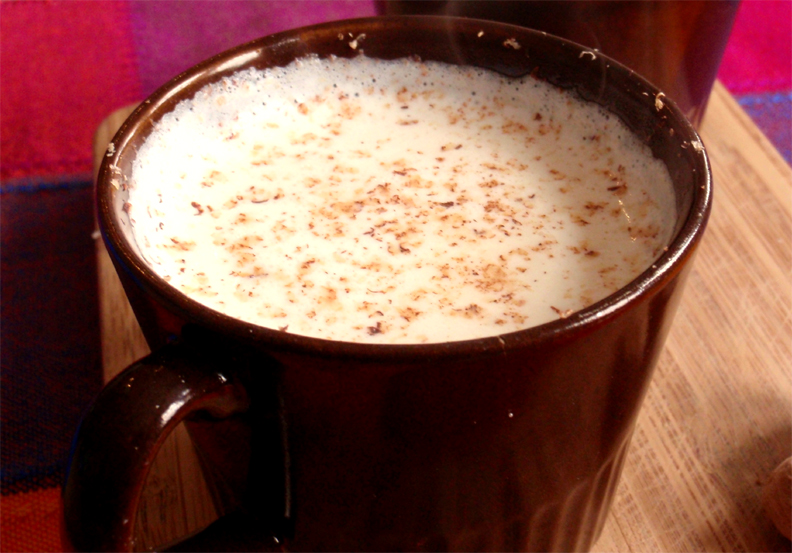 Ingredients
Cloves

6

Saffron threads

1⁄4 Teaspoon

Cinnamon stick

1

Tea leaves

1 Teaspoon

Ground mace

1 Teaspoon

Milk

6 Cup (96 tbs)

Sugar

1⁄4 Cup (4 tbs)

Cornstarch

3 Tablespoon

(Dissolved In 3 Tablespoons Water)
Nutrition Facts
Serving size: Complete recipe
Calories 1217 Calories from Fat 411
% Daily Value*
Total Fat 46 g70.5%
Saturated Fat 25.8 g129%
Trans Fat 0 g
Cholesterol 135.6 mg
Sodium 563.7 mg23.5%
Total Carbohydrates 169 g56.2%
Dietary Fiber 3.2 g12.7%
Sugars 121.3 g
Protein 45 g89.5%
Vitamin A 28.7% Vitamin C 5.9%
Calcium 157.3% Iron 9.9%
*Based on a 2000 Calorie diet
Directions
Tie the cloves, saffron threads, cinnamon stick and tea in a small piece of cheesecloth.
Place the cheesecloth bag in a saucepan with the mace and milk.
Bring the milk to a boil over low heat.
Add the sugar and the cornstarch mixture, stirring constantly until the milk is slightly thickened.
Remove the cheesecloth bag and pour the hot milk into mugs.