»

Recipes

»

Hot Gingerbread With Whipped Cream
Hot Gingerbread With Whipped Cream Recipe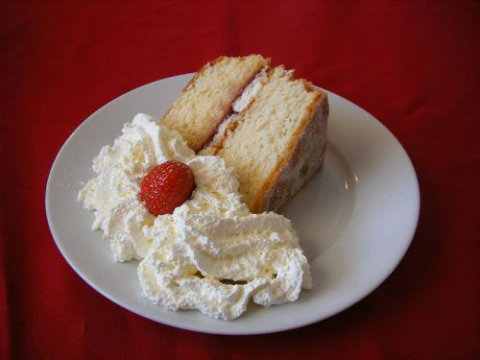 Ingredients
| | | |
| --- | --- | --- |
| | Shortening | 1⁄2 Cup (8 tbs) |
| | White sugar | 1⁄2 Cup (8 tbs) |
| | Egg | 1 |
| | Molasses | 1 Cup (16 tbs) |
| | All purpose flour | 2 1⁄2 Cup (40 tbs) |
| | Soda | 1 1⁄2 Teaspoon |
| | Salt | 1⁄2 Teaspoon |
| | Ground ginger | 1 Teaspoon |
| | Ground cinnamon | 1 Teaspoon |
| | Ground cloves | 1⁄2 Teaspoon |
| | Boiling water | 1 Cup (16 tbs) |
| | Whipped cream | 1 |
Nutrition Facts
Serving size
Calories 879 Calories from Fat 247
% Daily Value*
Total Fat 28 g43%
Saturated Fat 7 g34.9%
Trans Fat 3.4 g
Cholesterol 52.9 mg
Sodium 811.6 mg33.8%
Total Carbohydrates 150 g50%
Dietary Fiber 3.1 g12.6%
Sugars 72.1 g
Protein 10 g19.7%
Vitamin A 1.4% Vitamin C 1.1%
Calcium 21.2% Iron 45.3%
*Based on a 2000 Calorie diet
Directions
Cream the shortening till light and fluffy.
Beat in the sugar.
Add the egg and beat well.
Stir in the molasses.
Sift together the flour, soda, salt, and spices.
Add the dry ingredients in 3 parts alternately with the water in 2 parts to the creamed mixture.
Start and end with the dry ingredients.
Pour into a well-greased 9" x 9" cake tin.
Bake 50-60 minutes at 350 degrees.
Cool in tin 5-10 minutes, cut into squares, and serve with whipped cream.