»

Recipes

»

Hot Cross Buns
Hot Cross Buns Recipe
Fresh Hot Cross Buns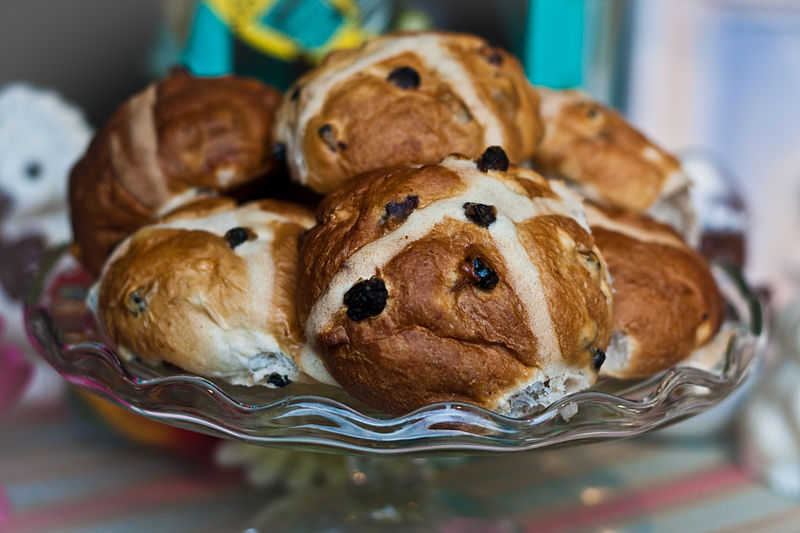 Ingredients
Active dry yeast

1⁄2 Ounce

(2 Envelopes)

Warm water

1⁄2 Cup (8 tbs)

Butter/Margarine

1⁄2 Cup (8 tbs)

(1 Stick)

Evaporated milk

2⁄3 Cup (10.67 tbs)

Sugar

1⁄2 Cup (8 tbs)

Salt

1 Teaspoon

Eggs

2

Dried currants

1 Cup (16 tbs)

Sifted all purpose flour

4 1⁄2 Cup (72 tbs)

Cinnamon

1⁄4 Teaspoon

Nutmeg

1⁄4 Teaspoon
Nutrition Facts
Serving size
Calories 249 Calories from Fat 66
% Daily Value*
Total Fat 8 g11.6%
Saturated Fat 4.4 g21.9%
Trans Fat 0 g
Cholesterol 44.6 mg
Sodium 144.1 mg6%
Total Carbohydrates 40 g13.3%
Dietary Fiber 1.7 g6.7%
Sugars 12.2 g
Protein 6 g11.7%
Vitamin A 4.7% Vitamin C 0.9%
Calcium 4.6% Iron 12%
*Based on a 2000 Calorie diet
Directions
GETTING READY
1. In a large bowl, place moderately warm water and sprinkle yeast. Stir till fully dissolved.
2. In a small saucepan melt butter and margarine and cool slightly.
3. Add the evaporated milk, sugar, salt and yeast mixture. Stir continuously till all ingredients are dissolved
4. In another small bowl, beat two eggs using a small-wired whisk. Reserve two tablespoons in a small bowl to glaze the buns. Stir in the remaining egg into the yeast mixture. Stir constantly in currents.
MAKING
5. Stir the flour in parts. First add 2 cups of sifted flour, cinnamon and nutmeg into the yeast mixture , stirring vigorously until smooth. Then add the remaining 2 ½ cups of flour to make a soft dough
6. On a floured pastry tray, roll out the dough constantly sprinkling flour onto the base so that the dough doesn't stick. Knead for 5 -10 minutes till dough becomes elastic and smooth.
7. In a greased bowl brushed with margarine or butter, place the dough and cover with towel. Keep in a warm place. Allow it to sit for 1 hour until it rises to double it's bulk.
8. Punch the dough down on a floured pastry board and divide in half
9. Cut each half into 16 equal sized small pieces and roll into a ball between the palms of your hands.
10. In a greased baking pan ( 9x9x2) place all the 32 balls neatly. Cover with a towel and place in a warm area. Allow to rise for 45 minutes or until it doubles in bulk.
11. Once risen, brush with the reserved egg and bake in the oven for 30 minutes at 350 Deg Fahrenheit. The buns should become golden brown.
12. Remove from oven and cool on wire rack or on a kitchen stand.
13. Drizzle sugar on the buns to make a decoration of crosses.
SERVING
14. Hot Cross buns are a famous snack for children. So prepare for picnic along with some milk and/or coffee.
Image Courtesy :
http://www.flickr.com/photos/garryknight/4535104161/