»

Recipes

»

Salad

»

Hot Chicken Salad
Hot Chicken Salad Recipe
Hot Chicken Salad is any non-veggie's delight. This Hot Chicken Salad is an yummy indulgence for sure. They are really good!
Summer Harvest Chicken Salad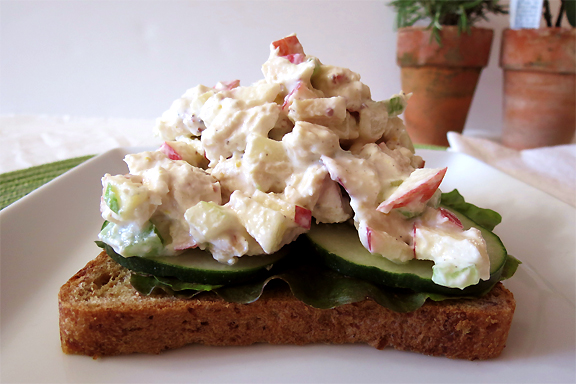 Ingredients
Red cabbage head

1 Small

Chicken breasts

3 Large

Salt

To Taste

Mayonnaise

1⁄2 Cup (8 tbs)

Milk

3 Tablespoon

Zucchini

1 Medium

, thinly sliced

Carrot

1 Small

, shredded

Basil

1⁄4 Teaspoon
Nutrition Facts
Serving size: Complete recipe
Calories 1650 Calories from Fat 857
% Daily Value*
Total Fat 95 g146.7%
Saturated Fat 10.4 g52.1%
Trans Fat 0.1 g
Cholesterol 335.4 mg
Sodium 1521.1 mg63.4%
Total Carbohydrates 87 g28.9%
Dietary Fiber 24.3 g97.4%
Sugars 46.1 g
Protein 119 g237.6%
Vitamin A 401.3% Vitamin C 1013.6%
Calcium 59.4% Iron 66.4%
*Based on a 2000 Calorie diet
Directions
1. Coarsely slice enough cabbage to make 5 cups, discarding any tough ribs (reserve remaining cabbage for salad another day).
2. Remove bones and skin from chicken breasts. Cut chicken into bite-sized pieces.
3. In 12-inch skillet over medium heat, in 2 tablespoons hot salad oil, cook sliced cabbage and 1 teaspoon salt, stirring occasionally, until cabbage is tender. Spoon cabbage into large bowl. Wipe skillet clean.
4. In same skillet over medium-high heat, in 1 tablespoon hot salad oil, cook chicken and 1/2 teaspoon salt, stirring frequently, until lightly browned and tender, about 3 minutes. With slotted spoon, remove chicken to bowl with cabbage.
5. Into drippings remaining in skillet, stir mayonnaise and milk until smooth; over low heat, heat through, stirring constantly. Pour mayonnaise mixture over chicken mixture in bowl. Add zucchini, carrot, and basil; gently toss to mix well.