»

Recipes

»

Soup

»

Hot And Sour Soup
Hot And Sour Soup Recipe
Hot And Sour Soup is a mouth watering recipe which you would surely want to get to your guests attention. This great tasting and easy to prepare recipe will surely tempt you to serve to your loved ones. So make sure you dish out this Hot And Sour Soup and let me know how much you liked it.
Hot and Sour Soup Bowl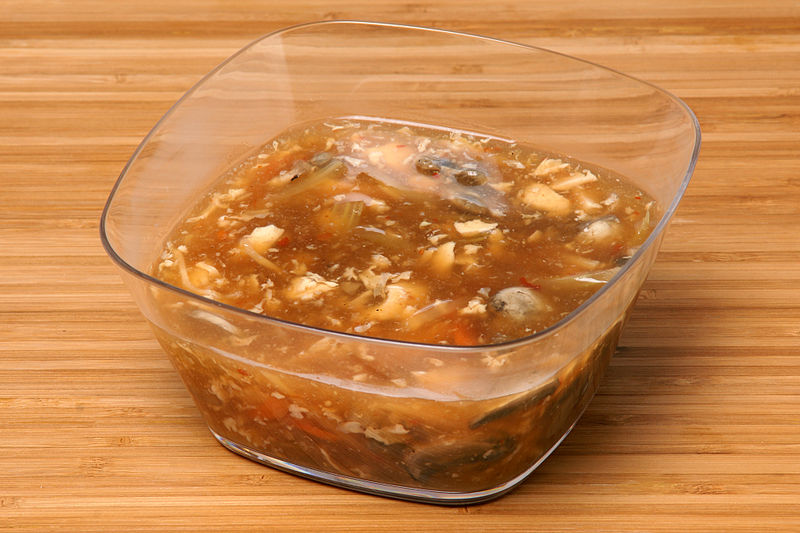 Ingredients
Chicken stock

6 Cup (16 tbs)

White wine vinegar

2 Tablespoon

Soy sauce

1 Tablespoon

2 ounces shredded lean pork

12 ounces soybean curd cakes, drained and shredded

Bamboo shoots

1/4 Cup (16 tbs)

, shredded

Root ginger

1 Teaspoon

, shredded

Salt

1 Teaspoon

Pepper white

1 Teaspoon

Cornstarch

2 Tablespoon

Water

4 Tablespoon

1 egg, lightly beaten

Minced green onions, sesame oil
Directions
Bring chicken stock to a gentle boil.
Add vinegar, soy sauce, pork, curd cakes, bamboo shoots, ginger root, salt, and pepper.
Bring to a second, very gentle boil.
Mix cornstarch and water; stir into the soup.
Heat briefly, but do not boil.
Drizzle in the beaten egg, stirring to help it form threads as it cooks.