»

Recipes

»

Ham

»

Honey Baked Ham
Honey Baked Ham Recipe
Honey baked ham is one of my favorites. I love the glazed look and the delicious flavor that the fruit juices and honey add to this ham. An easy to make recipe that is fit for even beginners to make a start.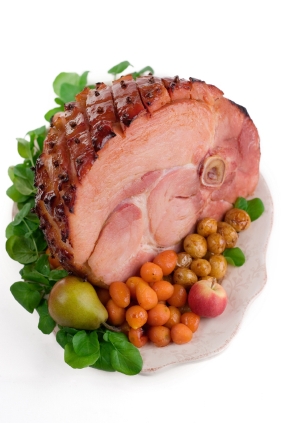 Ingredients
7 lb fully cooked spiral cut smoked ham

Cloves

20

Brown sugar

6 Tablespoon

½ to ¾ cup orange juice

Pear juice

1/2 Cup (16 tbs)

Allspice

1 Pinch

Honey

1/2 Cup (16 tbs)
Directions
Take a bowl, add in the orange juice, pear juice, allspice and brown sugar. Stick in the cloves all over the ham. Place the ham in a baking pan and place in pre-heated oven at 375 degrees. Brush the ham with the mixture of juices and brown sugar mixture every 10-15 minutes. Bake for approximately 1 to 1.5 hours. Use a butane torch to caramelize the honey and give your honey baked ham the glaze that make it look very attractive too.