»

Recipes

»

Mix

»

Homemade "Instant" Hot Cocoa Mix
Homemade "Instant" Hot Cocoa Mix Recipe
Have you ever met a kid who didn't welcome a hefty mug of rich hot cocoa on a chilly morning or after a day in the snow? For those of you that wonder what "real" difference it makes to use a homemade mix instead of a store-bought one, I urge you to try this recipe. When you choose to use a bit of down time to make this dry concoction, in bulk, the benefits are not just limited to enhanced taste. For me, the biggest benefit has always been the nurturing "take away" as a parent, which is far greater than when tearing open a packet of those commercially prepared mixes (complete with dehydrated marshmallows, resembling space-rocks). So, if you have children or neighbors who have children, now's the time to whisk, sift and store this terrific cocoa mix and make sure to stop and take notice at how different it feels, when you hear those wonderful words "This is so delicious!" Also, if you have friends who go skiing often, this cocoa mix makes a fabulous gift. Any time I've suggested a tool, a piece of equipment, or a culinary term that's unfamiliar to you, you can go to Kitchen Management for more information. Special Equipment Large triple-mesh wire sieve (not a fine-mesh sieve) 5-quart canister, preferably airtight At-a-Glance Recipe Guide: Cooking muscle required: One Prep time: 10 minutes Do ahead potential: The mix can be assembled and kept at room temperature, in an airtight container, for 6 months.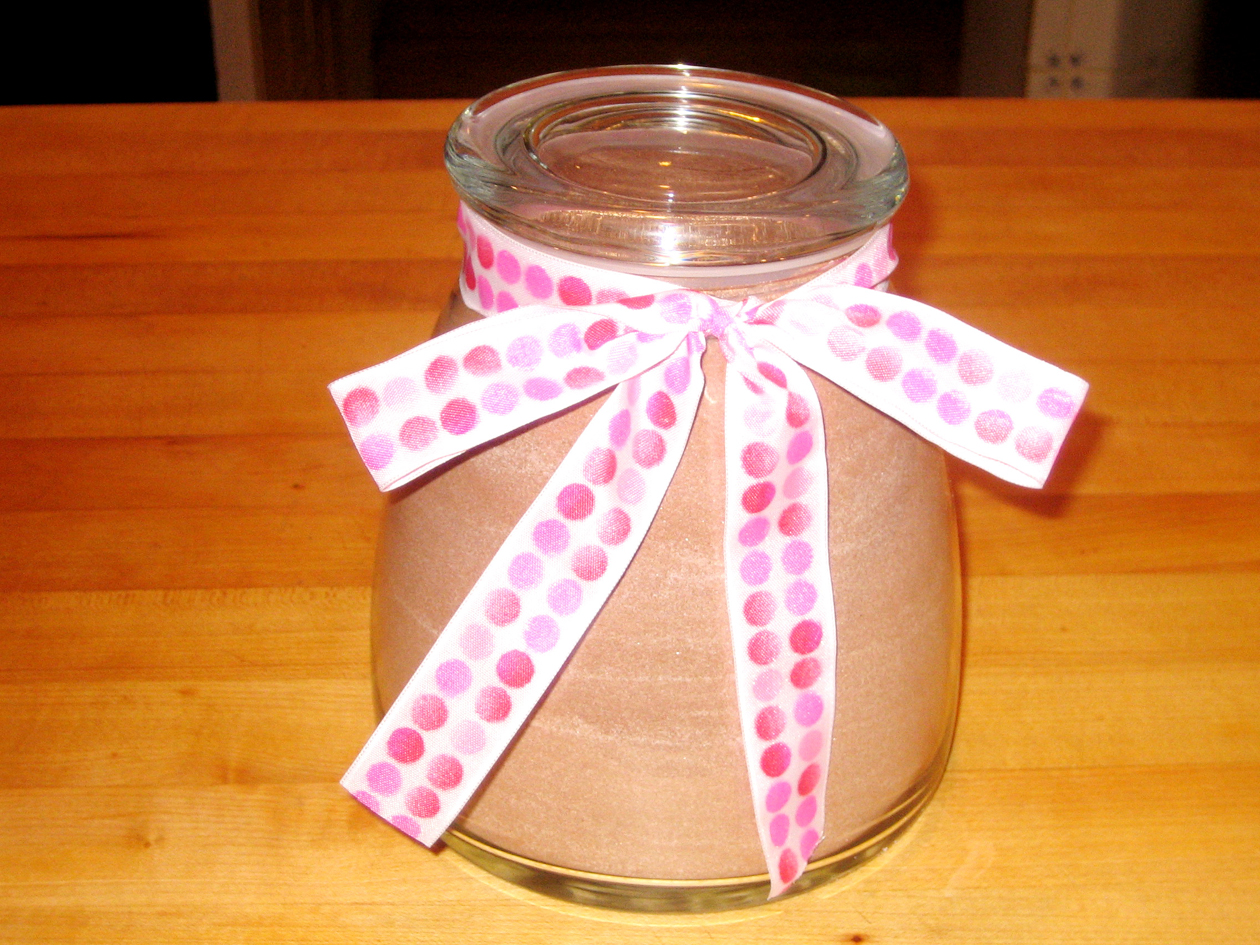 Ingredients
Unsweetened cocoa powder

3 Cup (48 tbs)

(Dutch-processed - For the Cocoa Mix)

Superfine sugar

4 1⁄2 Cup (72 tbs)

Dry nonfat milk

6 1⁄2 Cup (104 tbs)

Salt

1⁄3 Teaspoon

Ground cinnamon

2 Teaspoon

Cocoa mix

1⁄3 Cup (5.33 tbs)

(Mom's Hot Cocoa Mix - use a bit more or less)

Boiling water/Or very hot milk

1 1⁄2 Cup (24 tbs)

(half and half or cream)

Pure vanilla extract

1⁄2 Teaspoon

(For One Mug of Hot Cocoa)

Cinnamon stick

1

Whipped cream

2 Tablespoon

(or pulverize a few hard peppermint candies and fold them into whipped cream with a bit of pink food coloring and then sprinkle the top with some more peppermint candy that's been cracked into coarser pieces.)

Marshmallows/Shaved bittersweet or semisweet chocolate ((use a vegetable peeler) mini chocolate chips and a few mini marshmallows

1 Cup (16 tbs)
Nutrition Facts
Serving size: Complete recipe
Calories 6738 Calories from Fat 944
% Daily Value*
Total Fat 112 g172%
Saturated Fat 65.1 g325.7%
Trans Fat 0 g
Cholesterol 42.9 mg
Sodium 1020.5 mg42.5%
Total Carbohydrates 1632 g543.9%
Dietary Fiber 246.1 g984.4%
Sugars 1053.2 g
Protein 211 g421.3%
Vitamin A 0.7% Vitamin C 0.76%
Calcium 107.6% Iron 563.5%
*Based on a 2000 Calorie diet
Directions
1) To assemble the mix: Whisk together all of the dry ingredients in a 6-quart bowl. Sift mixture through a large triple-mesh sieve into another bowl and then sift back into the original bowl. Store in an airtight 4- to 5-quart canister.

2) To make a mug of hot cocoa: Place 1/3 cup of the dry mix into a mug. (Use less mix for a smaller cup.) Fill the mug with boiling water, milk, half and half or cream (or use a combination). Add vanilla and stir well, with a cinnamon stick, if using. Top with any of the suggested garnishes. If serving to young children, you might want to stir in a bit of cold milk just to take some of the heat off.

Note: To shave chocolate, if using, run a regular vegetable peeler across a block of firm bittersweet or semisweet chocolate. Depending on the width of the chocolate you're shaving, you will either get long curls or a fine dusting. Both are delicious. Store any extras in an airtight container.

Anonymous says :
made and gave as christmas gifts to friends & family w/candy canes & cinnamonsticks
Posted on:
20 December 2009 - 1:33pm

This Homemade Instant Hot Cocoa looks really very tempting. I'll try this when the weather is really cold. Christmas might be the right time . Isn't it ?
Posted on:
28 September 2009 - 8:45pm