»

Recipes

»

Orange

»

Homemade Sweet Orange Peel
Homemade Sweet Orange Peel Recipe
Don't throw away orange peel. It's a great snack for those on gluten-free diets.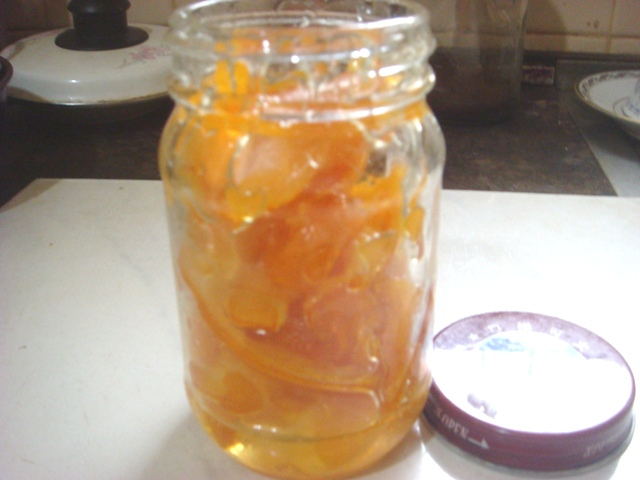 Ingredients
Orange peel

1 Cup (16 tbs)

Water

1 1⁄2 Cup (24 tbs)

Sugar

3⁄4 Cup (12 tbs)

, divided
Nutrition Facts
Serving size
Calories 136 Calories from Fat 0
% Daily Value*
Total Fat 0.04 g0.06%
Saturated Fat 0 g0.02%
Trans Fat 0 g
Cholesterol 0 mg
Sodium 0.61 mg0.03%
Total Carbohydrates 35 g11.7%
Dietary Fiber 2.2 g8.6%
Sugars 30 g
Protein 0.3 g0.61%
Vitamin A 1.7% Vitamin C 46%
Calcium 3.3% Iron 0.92%
*Based on a 2000 Calorie diet
Directions
Remove the white pith part from the peel. This white part is bitter. Cut the cleaned peel into strips about 1/4 or 1/2 inch thick.

Place the peels in a large saucepan and add 1 cup cold water to cover. Bring to a boil and cook over medium heat for 40 minutes or until the peels are soft. Next, rinse them with tap water. Drain the strips in a colander.

After that, place 1/2 cup sugar and remaining 1/2 cup of water in a medium-sized heavy-bottomed pan and cook until sugar dissolves. Add peel. Cook 1–2 minutes. Mix well.

Remove from heat and place the peel on a wire rack and allow to dry overnight. After it has completely dried, toss with remaining 1/4 cup sugar and store in an airtight container.

Serve and enjoy.