»

Recipes

»

French

»

Simple Hollandaise Sauce
Simple Hollandaise Sauce Recipe
Hollandaise Sauce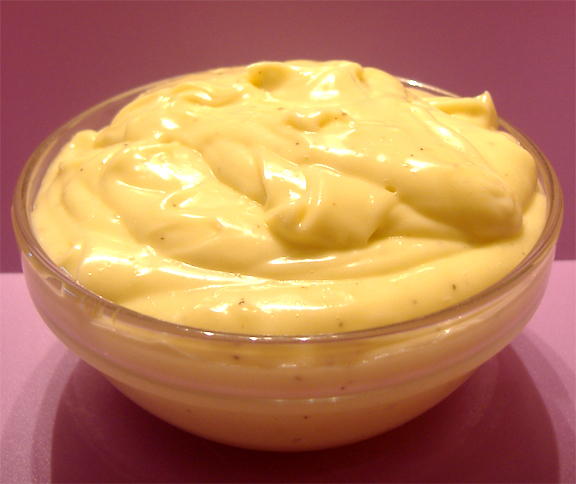 Ingredients
Butter

6 Ounce

(180 Gram)

Water

45 Milliliter

(3 Tablespoons, 15 Milliliter Each)

Egg yolks

3

Lemon

1⁄2

, juiced (To Taste)
Nutrition Facts
Serving size: Complete recipe
Calories 1368 Calories from Fat 1321
% Daily Value*
Total Fat 150 g230.8%
Saturated Fat 91.7 g458.4%
Trans Fat 0 g
Cholesterol 921 mg
Sodium 41.2 mg1.7%
Total Carbohydrates 5 g1.6%
Dietary Fiber 1.4 g5.5%
Sugars 0.4 g
Protein 9 g17.9%
Vitamin A 98.2% Vitamin C 37.2%
Calcium 11.7% Iron 8.1%
*Based on a 2000 Calorie diet
Directions
MAKING
1. In a skillet, melt butter and let it cool down, later skim the surface of the skillet
2. In a saucepan, pour the water and place the egg yolks and whis together along with salt and pepper, until the ingredeints are will combined
3. Now place the pan over low heat and whisk the ingredeints inside the pan thoroughly till the mixture becomes creamy for 5 minutes
4. Remove the pan form the heat and wisk in the lukewarm melted butter, little drops at a time, once 1 tablespoon is added to the pan and the sauce is thickened then butter can be addedfaster
5. In the pan full of ingredeints, stir in the lemon juice and season to taste
6. Set aside the sauce warm in a water bath

SERVING
7. Serve as soon as possible with poached fish, vegetables and eggs.