»

Recipes

»

Bread

»

High Protein Bread
High Protein Bread Recipe
High Protein Bread is a simple and delicious side dish recipe which cannot just escape your guest's attention in any party. Why don€™t you give it a try and let me know the experience.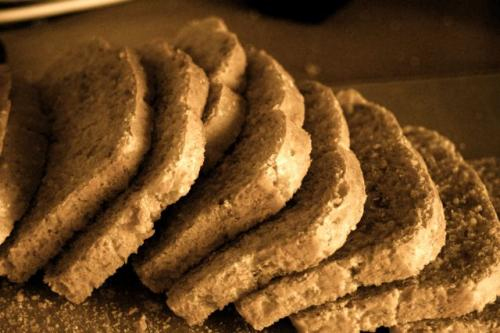 Ingredients
Yeast

1 Tablespoon

(1 Package)

Lukewarm water

1 Cup (16 tbs)

Flour

2 1⁄2 Cup (40 tbs)

, sifted

Salt

1 1⁄2 Teaspoon

Sugar

2 Teaspoon

Full fat soy flour

3 Tablespoon

Nonfat dry milk

3 1⁄2 Tablespoon

Shortening

2 Teaspoon
Nutrition Facts
Serving size: Complete recipe
Calories 1657 Calories from Fat 194
% Daily Value*
Total Fat 23 g34.8%
Saturated Fat 4.4 g21.8%
Trans Fat 1.3 g
Cholesterol 12 mg
Sodium 3194 mg133.1%
Total Carbohydrates 293 g97.7%
Dietary Fiber 14 g55.9%
Sugars 38.3 g
Protein 67 g134.3%
Vitamin A 1.1% Vitamin C 4%
Calcium 75.3% Iron 99.4%
*Based on a 2000 Calorie diet
Directions
1. Dissolve yeast in water.
2. Combine all dry ingredients in a mixing bowl. Add the liquid and mix well. Add shortening and continue mixing until the dough is smooth.
3. Place the dough in a well-greased bowl, grease the top, cover and let rise in a warm place (80° to 85° F.) for one and one-half hours.
4. Punch dough down, fold over edges of dough and turn it upside down. Cover and let rise fifteen to twenty minutes.
5. Shape dough into a loaf and place in a greased bread pan 9 x 4 x 3 inches. Cover and let stand about fifty-five to sixty minutes in a warm place until dough fills the pan.
6. Bake in a preheated hot oven (400° F.) about fifty minutes.