»

Recipes

»

Toast

»

Herbed Toast
Herbed Toast Recipe
Herbed Toast is an extremely unique ans easy to prepare toast. Other than being served as breakfast it will also serve well as a bread you would serve for dinner or lunch with your curries and stews. Experience the simplicity of the Herbed Toast with this wonderful recipe.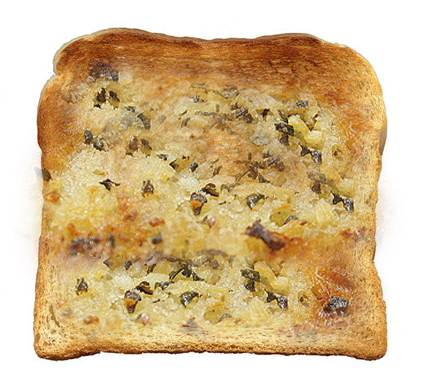 Ingredients
White bread slices

16

Butter/Margarine

1⁄2 Cup (8 tbs)

Savory

1⁄2 Teaspoon

Fennel seeds

1⁄2 Teaspoon

, crushed
Nutrition Facts
Serving size: Complete recipe
Calories 1669 Calories from Fat 842
% Daily Value*
Total Fat 92 g141.2%
Saturated Fat 57.9 g289.4%
Trans Fat 0 g
Cholesterol 241.9 mg
Sodium 1778.9 mg74.1%
Total Carbohydrates 172 g57.5%
Dietary Fiber 9.2 g36.8%
Sugars 0.1 g
Protein 23 g45.4%
Vitamin A 58.9% Vitamin C 3%
Calcium 11% Iron 8%
*Based on a 2000 Calorie diet
Directions
1. Cut crusts from bread slices (reserve crusts for making bread crumbs another day). Arrange bread slices on cookie sheets.
2. Preheat oven to 400°F. In small saucepan over medium heat, heat butter or margarine, savory, and fennel seeds until butter melts. Brush both sides of bread slices with butter mixture; bake 15 minutes or until golden on both sides, turning bread slices once.