»

Recipes

»

Bread
Herb Bread Recipe
Herb bread is a nice bread to accompany main course and snack. It goes very well with garlic butter. The herb bread dough can be used for pizza as well. A meal with hot pilaf and herb bread makes a nice ¬hearty meal. If you wish to serve it a snack, serve with olive oil. Here is a herb bread recipe for you!!!
Herb Bread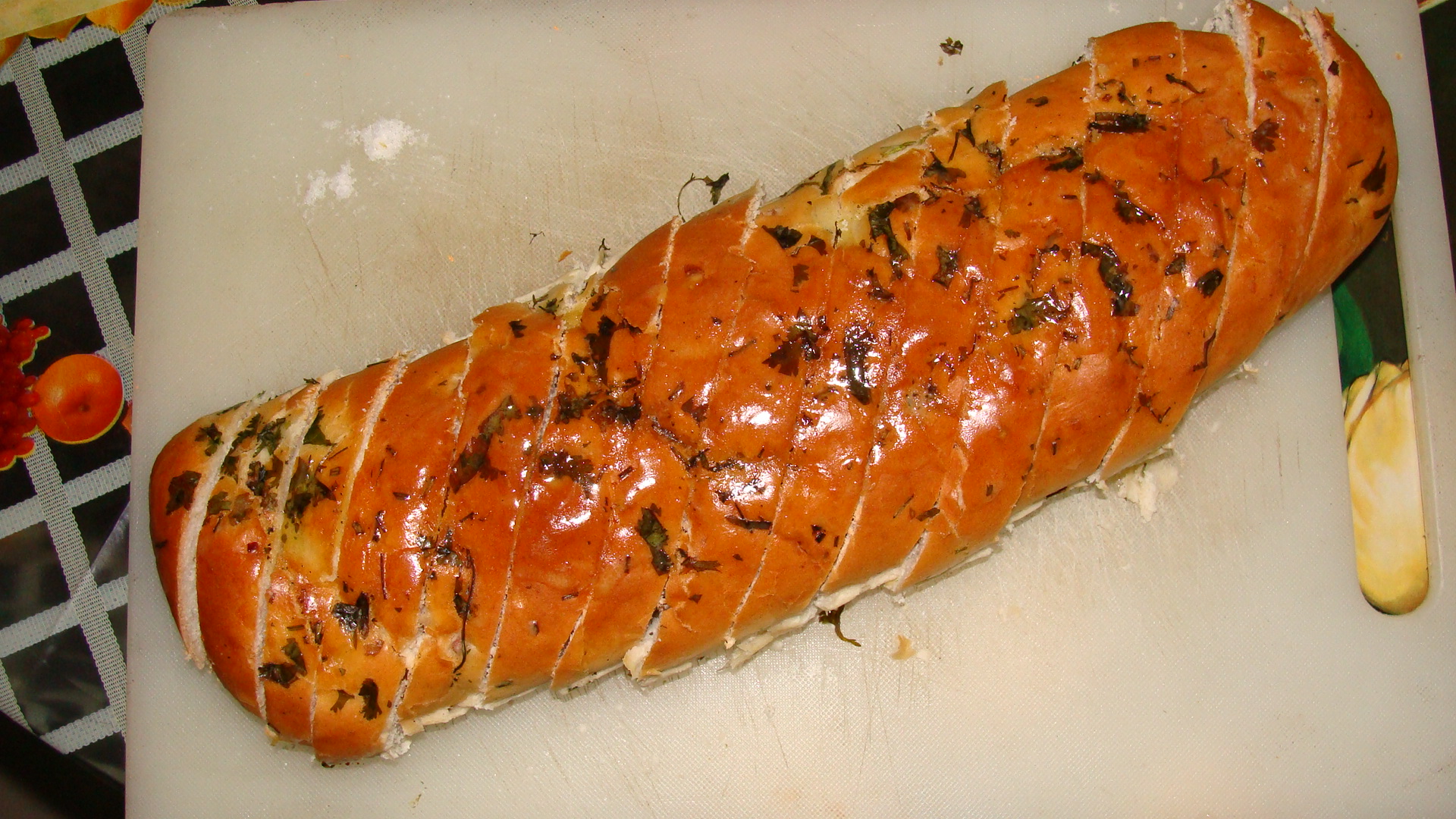 Ingredients
Margarine/Butter

1⁄2 Cup (8 tbs)

Brown sugar

1⁄3 Cup (5.33 tbs)

Brown sugar

1⁄3 Cup (5.33 tbs)

, packed

Milk

2 Cup (32 tbs)

, scalded

Milk

2 Cup (32 tbs)

Salt

1 Tablespoon

Thyme

1⁄2 Teaspoon

Basil

1 Teaspoon

Caraway seed

1 Teaspoon

Yeast

1⁄2 Ounce

Yeas

2 Tablespoon

Water

1⁄2 Cup (8 tbs)

All purpose flour

8 Cup (128 tbs)

, sifted

All purpose flour

8 Cup (128 tbs)
Nutrition Facts
Serving size
Calories 1833 Calories from Fat 243
% Daily Value*
Total Fat 28 g42.3%
Saturated Fat 7.1 g35.5%
Trans Fat 0 g
Cholesterol 18.1 mg
Sodium 1252 mg52.2%
Total Carbohydrates 344 g114.6%
Dietary Fiber 12 g47.9%
Sugars 37.3 g
Protein 48 g96.4%
Vitamin A 20.8% Vitamin C 2%
Calcium 27.8% Iron 106.6%
*Based on a 2000 Calorie diet
Directions
MAKING
1)In a saucepan, brown margarine, add brown sugar, milk, salt, thyme, basil and caraway seed. Let it cool to lukewarm.
2)In a large bowl, dissolve yeast in warm water and add milk mixture.
3)Mix enough flour slowly to make stiff dough.
4)On a floured surface knead it for 7 to 8 minutes.
5)Take a greased bowl and put the dough into it. Cover it.
6)Let rise for 1 hour and 30 minutes. Punch down and let rise for 30 minutes.
7)Shape into 2 loaves and take two greased loaf pans and put the loaves and cover.
8)Let rise in warm place for 45 minutes.
9)Bake at 375 degrees for 35 to 40 minutes. Turn out on racks to cool.

SERVING
10)Serve the herb bread as a dinner bread or as a snack.